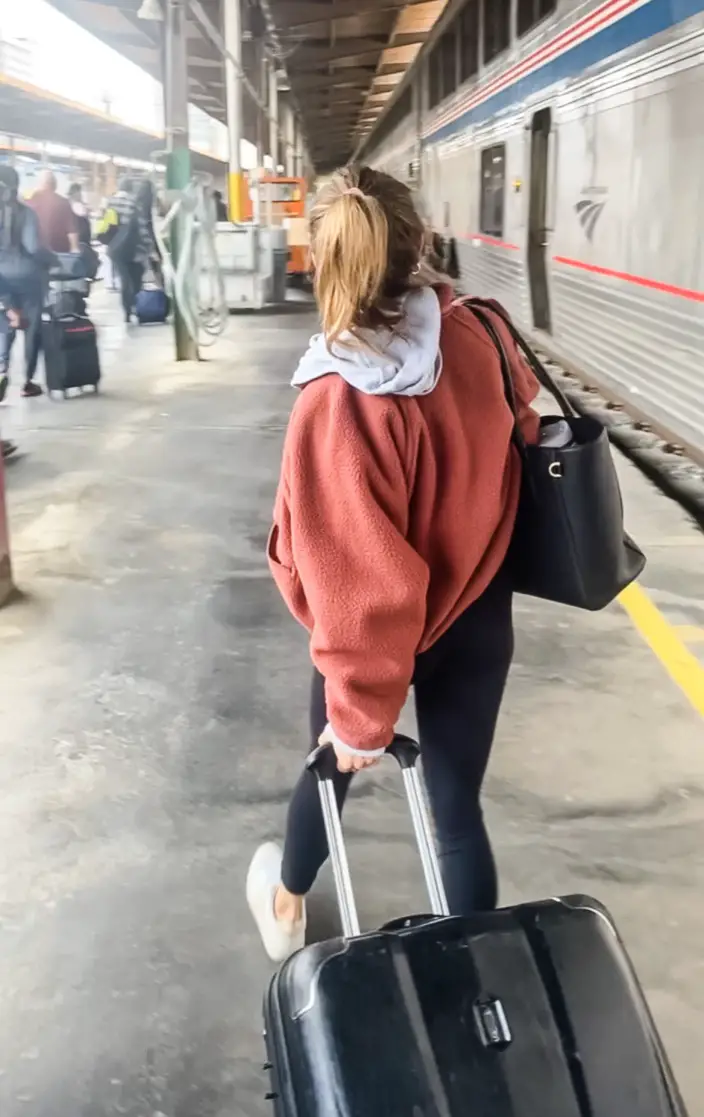 Ever wanted to sit back and let someone else chauffeur you to your vacation destination? You are in luck! The Amtrak train that travels around the United States does just that. I'll share all the pros and cons of this method of travel so you have everything you need to know. Read on for the best Amtrak train tips!
I've taken the train in cities around Europe, but never in my own backyard until recently. I took the Amtrak train from Memphis, TN to New Orleans, LA for a long weekend trip. The tickets are easy to book online, and our upper level Coach seats cost $100 round trip (which was probably cheaper than the gas it would have taken to drive there!)
Let's dive into some pros and cons of this mode of travel. Don't have time to read the whole article now? Save it on Pinterest for safe keeping later!
Amtrak Train Travel Tips: Pros
#1: Worry Free
If you choose a direct route without any connections, you have a much better chance of experiencing a straightforward, worry free journey. We boarded the train in Memphis, had 8 quick stops at stations both big and small throughout Mississippi, then arrived in New Orleans less than 9 hours later. That may sound long, but the seats are spacious with plenty of leg room. It is actually quite relaxing!
Watching the miles of land pass can be scenic. Although our journey was through small towns in Mississippi, some other routes around the country feature mountain ranges and great chances to see fall foliage. We did pass over Lake Ponchetrain, and got a neat overwater view.
Here is a map of the Amtrak Network with routes all across the country. The Memphis to New Orleans line is part of the bigger route that starts in Chicago and takes you from the northern border to the southern.
#2: Affordable
As previously mentioned, I thought my $100 round trip ticket was extremely affordable compared to the price of gas or airfare. The tickets do get more expensive if you choose a lower level seat, or a sleeper car. A sleeper car may be a smart consideration for overnight journeys, but definitely not necessary for a day trip.
#3: Baggage
My understanding is that you can bring 2 carry ons plus a personal item, including food/drink, coolers, etc. You can also check baggage and bigger items such as bicycles and skis, but you must get there early. It's nice to not have to pay extra for bags, and keep them with you and in your line of sight during the journey. No lost luggage here!
#4: Efficient
No having to arrive hours early to go through security, check in, or deal with luggage was nice. We arrived 15 min early for both trips and walked right on the train.
Some things I may consider next time include getting there earlier to be in one of the first cars. We luckily landed near the front by chance on the way there, but were in the second to last car on the way home. If you have a tendency toward getting motion sick, we felt a big difference between the front and the back of the train. The lower car's seats are also much smoother than the upper cars. They didn't assign seats for our journey, so it's first come first serve.
Cons
#1: Sub par bathrooms
This one may be up for interpretation, but in my opinion the bathrooms were worse than airplane bathrooms. They are small, and tended to be smelly. That's unfortunate when you are stuck on the train for an extended period of time (8-9 hours in my case). Not a deal breaker, but definitely could be improved.
#2: Lack of communication
We had a great trip from Memphis to New Orleans, with a not so great return trip. On the way there they were updating us regularly, announcing all train stops, and giving advice about when to eat to avoid lines. On the way back, we didn't hear a single peep. No stops were announced, no explanation when our train came to a stop and turned off for 15 mins, and a single announcement stating we were arriving in Memphis almost an hour early, when that was in fact not true. The lack of communication was confusing!
#3: Cafe
I had much higher expectations for the food situation for some reason. When they said there was food provided and I knew we'd be traveling from 6:40 am to 3:40 pm (technically through breakfast and lunch), I was expecting to be well fed.
However, there was a small room on the lower level that classified as the cafe, with food and beverage options. It was no better than a gas station convenient store. They were out of many of the offerings on the menu, and I ended up with a pre-packaged blueberry muffin for breakfast, and a soggy ham and cheese sandwich for lunch. Like I said, sub-par. Here is the "national" menu they provide online, which was the menu on our train.
For the return trip, I came prepared with a tuna lunch pack, beef jerky, and fruit so that I didn't have to rely on the gas station quality food for another meal. This was unfortunate, but know you can bring whatever you wish on board (including coolers).
#4: WiFi
Last but not least, they stated there would be WiFi onboard. There was in fact, no Wifi on the trip down or the trip back. Not a huge deal, but if I was relying on WiFi and had planned to work, I would have been disappointed.
Amtrak Train Travel Tips: What to Pack
Last, lets go over a few things I was happy I packed. I brought my Kindle, and read when I wasn't feeling motion sick. The temperature stayed comfortable on the train, but if you want to nap a blanket is always a good idea. You also can't go wrong with a small neck pillow. There should be an electrical outlet available at your seat, so bring chargers for your electronics.
Finally, bringing your own food and beverages is a must. I like knowing I am prepared with whatever I may need so I don't risk hanger! Some good train friendly snack ideas include: cheese and crackers, beef sticks or jerky, canned tuna, bagels, nut butters, dried or fresh fruit, nuts, cereal, pickles and olives.
I hope you find these Amtrak train travel tips helpful! I would love to hear your experience on the train, and encourage you to try this method of travel around the states if you haven't yet. Safe travels!