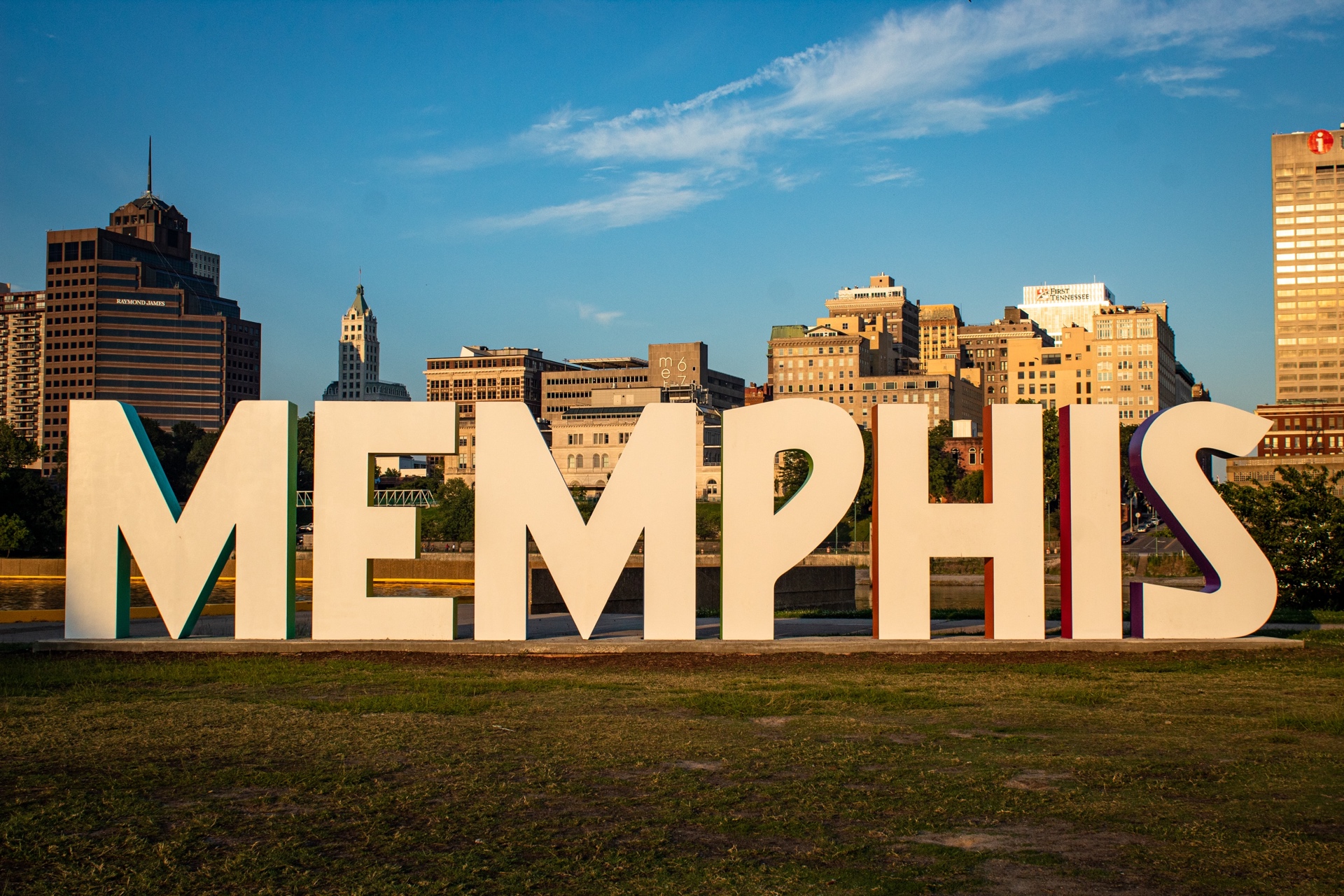 Memphis has so much to offer. It is a "big city", but you can get from one end to the other in 40 minutes. The culture is palpable, the food is great, and the entertainment is plenty. The history in Memphis makes it a great travel stop, it is truly a city with soul. Did you know that the city of Memphis is sung in the lyrics of more recorded songs than any other city in the world??? Pretty neat, huh. If you need further proof, Memphis made TIME magazine's annual list of "World's Greatest Places" this year in 2021. Let me walk you through the birthplace of rock 'n roll, home of the blues, and the bluff city: Memphis. 
The city of Memphis starts downtown on the banks of the Mississippi River, and spans out to the east. Downtown is where the infamous Beale Street lies, then as you move east you'll hit midtown with the Overton Park/Square and Cooper Young neighborhoods. Continue further east and you'll hit "East Memphis", then the suburbs of Germantown, and further out is Collierville. 
I'm going to walk you through a visit to Memphis from a local perspective. I go beyond downtown and Graceland because Memphis is so much more! And to be honest, I've never been to Graceland. I like Elvis, but I think the attraction is overpriced and I'd rather spend my $50 elsewhere. Read on to learn what to do, where to eat and drink in each area. Scroll to the bottom for a streamlined "fast itinerary" with links. 
Let me help you Walk in Memphis! ♫ ♪ ♪ 
Memphis Travel: Downtown
Downtown is where you'll find the bright lights and big city feel. On Riverside Drive, enjoy views of the mighty Mississippi. Like any downtown, there is lots to do, see and eat down here. I will outline my favorites after exploring for four years. 
If you are downtown, I'm sure you plan on enjoying a drink or two. Is a trip to Memphis really complete if you don't at least step foot onto Beale? For live music, my favorite bar is Tin Roof- however, look elsewhere if you want to hear the blues. Silky O'Sullivans piano bar is a must, but unless you want a sugary hangover fell free to skip the bucket!
Off of Beale, some other local favorites include Bardog for a night out, or Loflin Yard and Carolina Watershed during the day or afternoon. The latter two have great outdoor spaces and offer yard games and food too! My last recommendation for your night out is Paula Raiford's disco. There are hardly words, but I can promise a good time. Open 10 pm to 4 am Friday and Saturday, they take cash only both for the cover and 40 oz beers. 
If you like to see where the local drinks are made, Memphis has plenty of breweries and even a distillery too! The local breweries include:
Enjoy house made spirits at the local distillery, Old Dominick. You can go for a 45 min tour to see the facility and taste the portfolio of spirits, including gin, bourbon and vodka. Or, you can go and enjoy a cocktail inside or in the awesome rooftop space.
After a couple drinks, I'm sure you'll be ready to eat something. For a more casual bite, Gus's has the best fried chicken there is. Expect a wait, so get there with some time to spare.
Photo credit: @gusfriedchicken_mem
My three favorite date night restaurants downtown include:
I love the concept of pairing a flight of wine with my food flight. And don't sleep on the deviled eggs for an appetizer, they are amazing.
Catherine and Mary's has great shareable and upscale Italian. I always love the environment here. Let the waiter walk you through the menu that changes seasonally and enjoy. A self proclaimed " southern take on Sicilian & Tuscan grandmother cooking" makes it a must stop in Memphis for sure.
Majestic Grille has such a fun and unique environment too. It used to be a theatre that opened on Main Street in 1913. They kept the theatre aesthetic which gives it a great feel for a unique place to dine.
There is a pyramid downtown. It's odd, but Memphis is actually named after a city in Egypt (it's biblical believe it or not), so I guess that's where the pyramid comes from. The pyramid used to be home to the Memphis grizzlies, but they moved out when the FedEx Forum was built.
In moved a place near and dear to my heart, Bass Pro Shops. My hometown of Springfield, MO is the location of what used to be the largest Bass Pro (coined the "grandaddy of all Bass Pro shops) and home to the founder. But, when Bass Pro decided to take over the pyramid, that location became the largest Bass Pro Shop 535,000 sq ft! Inside there is a resort to stay, bowling alley to play, and lots more to shop and look around at.
At the Bass Pro Pyramid, you can pay $10 to ride the elevator tot the top floor where theres another bar, and a balcony that looks over the city and the Mississippi river. The views are pretty great, especially at sunset.
Memphis hosts lots of museums, but I'm only going to talk about one. I would highly recommend The National Civil Rights Museum. It is built around the site of Martin Luther King Junior's assassination at the Lorraine Motel. It is done so well and informs about a topic very important to our country's history.
To round out the list of entertainment available downtown, Memphis has plenty for sports lovers. We are the proud home of NBA's Memphis Grizzlies, Triple A baseball team the Memphis Redbirds, and Memphis 901 soccer.
If sports aren't your thing, the Orpheum downtown is the historic theatre that shows Broadway plays on tour, and the Nutcracker every Christmas season.
Memphis Travel: Midtown
I may be biased because I lived in midtown for a while, but Midtown is my favorite. So much to do and so much character. Thats why I recommend staying in Midtown. Only minutes away from downtown, and close to Overton Square Entertainment District and Cooper Young neighborhoods, there is more than enough to do, see, eat and drink.
Stay
This is the best and only place to stay in Memphis in my book. Pettigrew Adventures owns nine luxury, 5 star Airbnb's in the midtown area. I had the pleasure of staying at Marty's Opalhouse Garden . Each house has a different personality, but all shine with bright and lively colors, design and style. Owned by a Memphis local, she knows Midtown is a great location for visitors and locals alike.
Most of their properties are located on the same street in midtown, making it the perfect set up if you are traveling with a large group, for a multi family vacation or even wedding parties!
Pettigrew Adventure's has over 1,300 five star reviews for their properties. So instead of boring you with generic information that has already been shared, I'll tell you my three favorite parts of my stay.
This may only be important to me, but they have filtered water! There is a Brita in the fridge. Access to filtered water when I'm staying away from home is so important to me. So enjoy your filtered water!
Secondly, the beds are not only king sized, but heavenly plush. You know when you stay somewhere and the owners clearly don't ever sleep there because the beds are rock hard? Pettigrew Adventure's are the exact opposite. They have king sized beds, which in and of itself is a luxury not often found in a rental and the mattress, pillow top and comforter are incredible. Seriously, I almost didn't make check out on time because the bed was so comfy.
Thirdly, the owner is a pet lover and all of her properties are pet friendly! It's always nice to know you have the option to bring your furry friend.
Are you convinced yet? If so, click here to book. I promise you won't regret it!
Eat, drink and do in Midtown Memphis
Midtown is home to my favorite bar-b-que restaurant AND Italian restaurant. The Bar-B-Q Shop is hands down the best BBQ in the city. Since '87, they've been serving up amazing food to the midtown community. Not only voted the #1 ribs in American, they have also been featured on the Bobby Flay Show, the Barbecue Crawl, Bizarre Foods, Andrew Zimmerman and Delicious Destinations. Trust me, when you go try the barbecue spaghetti.
Tamboli's is my favorite Italian restaurant. I love the locally sourced ingredients and atmosphere. Post covid, the dining in experience is definitely more casual than before. They have stayed afloat by evolving and relying heavily on to-go and pizza delivery. This would be a great option too if you are looking to eat in one night, without losing out on a quality meal. I have never ordered a pizza or pasta I didn't like. 
A couple blocks down you'll find the Overton Square Entertainment District, full of shops and bars. Hueys is a local favorite with locations all over the city and the best burger in town. Porch and Parlor is probably the best meal I've had in Memphis. Owned by the same folks as Flight downtown, they have a few shared menu items (including the deviled eggs). Categorized as a "southern steakhouse", it is my favorite upscale dining experience. Lafatyette's is my favorite bar in this area with great live music and a balcony to people watch.
Nearby in Overton Park, you have to spend a morning at one of the best zoo's in the country. At the Memphis Zoo, my favorite friends are the hippos and pandas.
Right next to the zoo is the Levitt Shell, where Elvis played his first show in 1954. They put on more than 50 free shows every year with different concert series where they invite guests to find a spot on the lawn, enjoy food trucks, drinks and the music.
The other fun area in Midtown is Cooper Young, named for the intersection of Cooper and Young streets. If you've ever been to Nashville, this area reminds me of 12 South. Some of my favorites are Railgarten, a great outdoor bar venue with live music on the weekends, and Alchemy for happy hour. Young Avenue Deli is a great local spot for lunch or dinner. 
My last midtown recommendation is Crosstown Concourse. Once the old Sear's building, it is now a collection of apartments, restaurants, bars, a brewery, ice cream shop, work out gyms, places of worship, drug stores, convenient stores and much much more. It's a sight to see, you could live there and truly never have to leave. 
Memphis travel: East Memphis
If we are talking catfish, my personal favorite in Memphis comes from Soulfish. With multiple locations, there is a great one on Poplar. I order catfish there every time, and it never disappoints. My first breakfast recommendation is Brother Junipers on the University of Memphis campus. There is alwayssss a wait, but I promise it's worth it. Rachel Ray herself once visited. The restaurant claims they are still the "best kept secret in Memphis", and I couldn't agree more.
My favorite Happy Hour in town is Magnolia & May, currently running Tuesday through Saturday from 4-6p. With half off glasses of wine and most apps, beer and cocktail deals it can't be beat. The atmosphere is fun, the food is farm to table with a menu changing weekly (with some fan favorites frequently offered, including the best tacos!). It's a must stop for a fun, affordable start to your evening.
My second favorite Bar-b-que restaurant is Central BBQ. With locations downtown, midtown, and now in East Memphis too. The nachos and wings are stellar, and the best five layer cake in coconut, caramel, chocolate and strawberry.
I mentioned parks and East Memphis is where they're at. The Memphis Botanic Garden is beautiful (and where I got engaged!). they also host a summer concert series. I have seen Judah and the Lion here and it was a blast.
The other must see park is Shelby Farms. This is one of the largest urban parks in the country, covering more than 5x the area of Central Park in NYC. Come enjoy the walking, running, and biking trails with multiple lakes, trees and buffalo (yes, Buffalo!). Remember the restaurant group that owns Flight and Porch and Parlor. They recently opened Coastal Fish Company on sight in Shelby Farms Park!
Since by nature I am a home DIY writer, I have to throw in two of my favorite places to shop for home goods. Memphis is lucky enough to have an Ikea, and near Ikea there is a Painted Tree Marketplace. Similar to an antique or flea market, where sellers have different booths. I thought this one was so nice. So many great booths, good prices, and beautiful set up. If you enjoy a shopping experience that is anything but cookie cutter, come here and sift for hidden treasures. 
If you enjoy hunting for antiques, my favorite is Blues City Thrift. I have gotten so many treasures from this antique store. Every day they put new finds onto the floor, and recommend going right at opening if you are interested in getting first pick.
Memphis Travel: The Suburbs
If you look at a map, so far downtown, midtown, and East Memphis are all inside the "240 loop". Locals will refer to places as either inside or outside the loop. We are about to step outside of the loop into the suburbs of Memphis including Germantown and Collierville. 
Germantown is home to upscale shopping in Saddle Creek. See the store directory here. While you're shopping you can also grab a bite at two of my favorites. City Silo is great if you're feeling healthy- they also accommodate many dietary considerations. If you are feeling not so healthy, head over to Rise, where you can enjoy the best fried chicken/pimento cheese biscuit and blueberry biscuits you've ever had. 
And even further west past Germantown is Collierville. They have such a quaint town square- reminiscent of Franklin, TN outside of Nashville. I love eating and shopping around an old town square, and Collierville is no different. 
Memphis Travel "Fast Itinerary"
Downtown
EAT
–Gus's fried chicken
–Flight upscale dining
–Majestic Grille upscale dining
–Catherine & Mary's southern Italian
DRINK
DO
–The National Civil Rights Museum
-Memphis Grizzlies basketball
-Memphis Redbirds baseball
-Memphis 901 soccer
Midtown
STAY
EAT
–Tamboli's farm to table Italian
–Hueys burgers
–Porch and Parlor southern steakhouse
-Alchemy happy hour and small bites
DO
–Overton Square Entertainment District
–Lafatyette's music room
–Levitt Shell free concert series
East Memphis
EAT
DO
-Ikea 
-Painted Tree Marketplace 
Suburbs
EAT
–Rise
DO
-Collierville Historic Downtown Square
I think I've spilled every last detail about Memphis by neighborhood. I promise there Is something for everyone- the history buff, foodie, party girl, and outdoor fanatic. Come enjoy the city I call home!
Enjoy the Journey,
Looking for more travel inspiration? Check out my other travel guides here!
Northeast
-Newport, Rhode Island
Southeast
Midwest
West
Going International? Find more travel guides to inspire a trip across the pond!
–Tour London, England in 3 Days
–Take a Day trip to Oxford, England
-See Liverpool, England like a local!
–Travel through The Lake District National Park, England
-Explore the Incredible City of Bath, England
–Discover 13 Hidden Gems in Edinburgh, Scotland