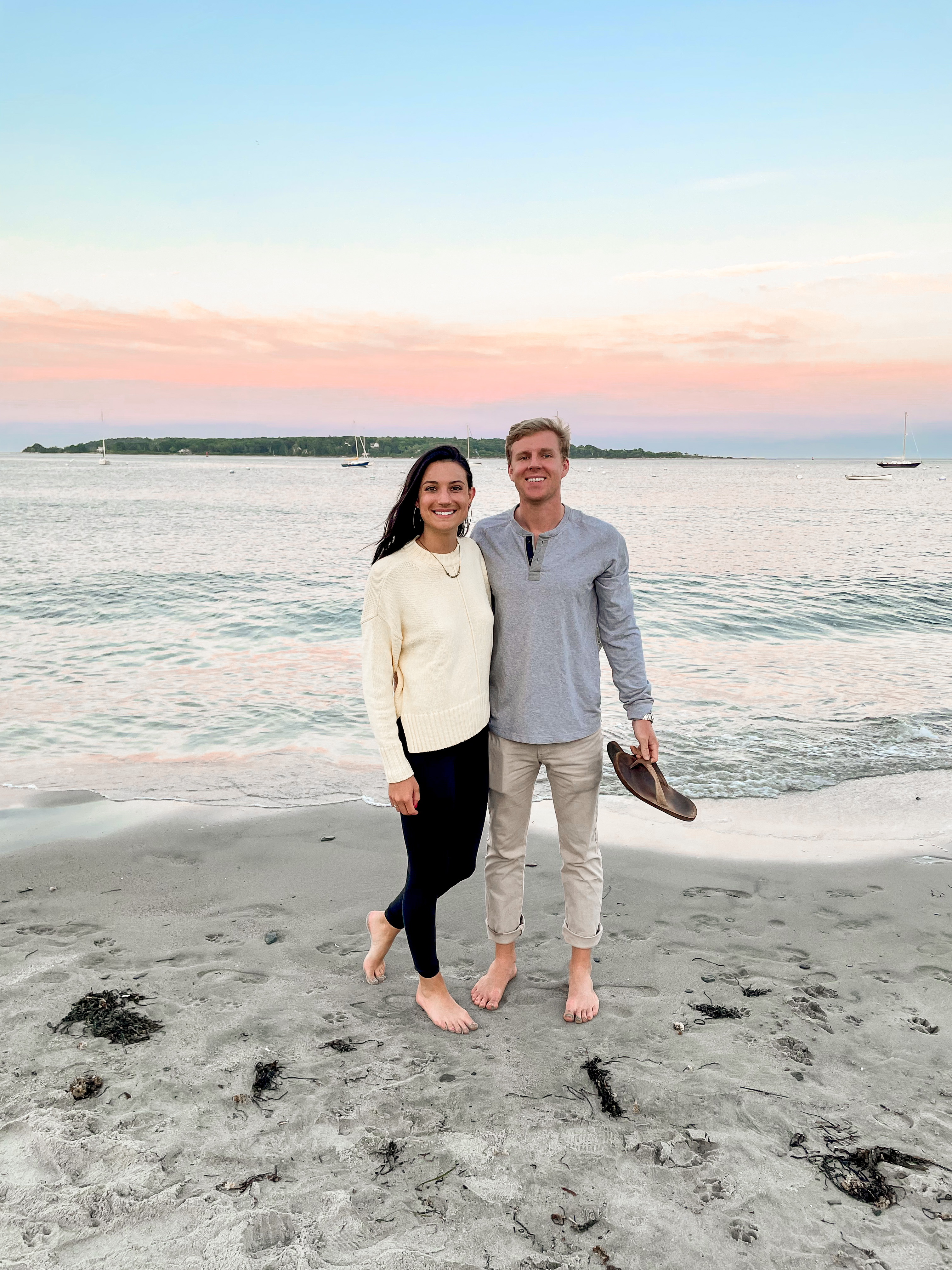 Find the perfect itinerary to the most beautiful coastline of New Hampshire & Maine. Get outside with this travel guide and experience history, culture, great food and even a national park. Discover your New England long weekend itinerary here.
Can I start by explaining that this is the most fun long weekend trip I've ever taken because… it was a complete surprise! I had joked with my husband during our Montana & Wyoming trip that I was tired of always being the Type A "planner". I challenged him to plan a trip, and he accepted.
Actually he not only accepted, he completely blew this trip and all of my expectations out of the water! So this may be the first and only blog post that I honestly did not plan content for, I am merely the writer and photographer. All of the praise goes to my husband, he truly planned the most perfect New England long weekend itinerary, and I'm here to share it with you. 
Fast Itinerary: New England Long Weekend
Day 1: Fly into Boston, rent a car and drive to Portsmouth, NH
Day 2: Breakfast and morning exploration in Portsmouth, time at the beach at Seapoint, lunch at the Nubble Lighthouse, and dinner and stay in Portland, ME
Day 3: Explore Acadia National Park, drive back to stay in Portland
Day 4: Drive back to Boston and fly home
Fast Eats: New England Long Weekend
Portsmouth, NH
Old Ferry Landing: Portsmouth's oldest waterfront dining, one of our favorite meals and an excellent spot on the water if the weather is nice
Ceres Bakery: made from scratch local kitchen in operation for breakfast and lunch for overt 40 years
Portsmouth Brewery: Brewing a great variety of beer for thirty years
York Beach, ME
Fox's Lobster House: their motto "one nibble on the nubble and you'll be hooked"
Portland, ME
Fore Street: their menu changes DAILY based on the supply provided by local farmers, fishermen, and foragers. A nationally recognized, James Beard awarded restaurant. 
The Holy Donut: proudly serving Maine potato donuts- featured in the New York Times
Mount Desert Island/Acadia National Park
Jordan Pond House: overlooking Jordan Pond in the park
Abel's Lobster: truly a hidden gem, could not love the aesthetic (or food) more. And proudly woman owned!
DAY 1: New England Long Weekend
New England Long Weekend Itinerary: Fly into Boston
Remember how I said I had NO idea where we were going? I was given a general packing list, that's all. We flew out of Memphis, and connected through Philly. When I learned our final destination was Boston, I still had no idea my husband had this adventure filled trip up his sleeve. 
New England Long Weekend Itinerary: Rent a Car
Once we landed in Boston, we rented a car and drove out of the city. Our ETA for this still secret final destination was 1 hr and 30 min away. I figured we'd either go north into New Hampshire, or south into Rhode Island. We headed north.
We exited for Portsmouth, NH and I've got to say- it may be the most charming and quaint town I have ever been to. The history alone is fascinating, dating back to the 17th century. The architecture is icing on the cake. When we pulled up to the Sailmakers House, I could hardly believe my husband planned and booked this all himself. 
The character and story behind this boutique inn are incredible. The Sailmakers House is a historic home, going through two owners as a sailmaking shop before being purchased in 1902 for a private residence and eventually an Inn. The original section of the Sailmaker's House was built in 1801.  
Beyond the history, the accommodations are excellent. Like a bed and breakfast, each room is decorated individually. Unlike a bed and breakfast, they do not offer an organized, hot daily breakfast. Instead, they have a variety of K cup options, tea, filtered water and snack options available 24/7 in the common area. Honestly, this may be a pro because it gives you the option to choose to walk to breakfast at all of the excellent options in Portsmouth without feeling guilty missing out on a breakfast you already paid for. 
Since you know I have a love for all things home decor, I have to note a few of the characteristics of the Inn. They feature original wide board pine floors, beautiful wood paneled doors, and original windows. I love the vintage rug in common area, it reminds me of the ones I wrote about in my guide (check it out if you are in the market for your own).
In addition to the beautiful decor, they did not skimp on comfort. Their "plush pillow top mattress" advertised on the website exists and let me just say, it delivers. The bed was so comfortable after a full day of travel and exploring on foot. 
 *Did you know? They have a sister location in Kittery, Maine called the Waters Inn. We would love to stay here one day too!
After we dropped off our luggage, we headed out to explore Portsmouth on foot. The entire downtown is part of the Portsmouth Downtown Historic District, dating back to the 17th century. The architecture reflects over four centuries of history with five National Historic Landmarks. A few we noticed housed former congressmen and original signers of the Declaration of Independence. 
We walked to dinner at the "casual" option my husband gave me. Old Ferry Landing is Portsmouth's oldest waterfront dining location, celebrating over 40 years and 3 generations of the "freshest seafood and best views". This meal is not to be missed in the spring and summer, you'll love the views of the tugboats and the river. The food was excellent- I ordered the baked Halibut recommended by our server and it was one of my favorite meals of the trip (sorry, you may hear me say this a lot). 
From dinner, we walked to find ice cream for dessert. We stopped at Kilwins in market square. Be prepared to make a decision given lots of homemade options! The chocolate coconut was our favorite- tasted just like a Mounds bar. We took our ice cream on our walk to Prescott Park- a 10 acre waterfront park along the Piscataqua River in the heart of downtown Portsmouth NH. We found a bench, and looked out over the water as the sun started to set. 
Our last stop of the evening was the local Portsmouth Brewery! I love the outdoor seating options available at all of the establishments- this may be a result of Covid, but it reminds me of Europe. We sat outside and enjoyed a local beer, taking in the charm that is Portsmouth. 
DAY 2: New England Long Weekend 
New England Long Weekend Itinerary: Waking up in Portsmouth, NH
The first thing on our agenda was coffee… and breakfast! My husband made a quick coffee with the Keurig in the lobby at the Sailmakers House, and I saved my caffeine craving for our first stop. We walked to Ceres Bakery– a made from scratch local kitchen in operation for breakfast and lunch for over 40 years. I ordered a chai latte with oat milk and an egg, spinach and cheese wrap. It was the perfect start to our day. 
We walked around and did some light shopping- most of the shops did not open until 10 or 11. Specifically, there was an Antique shop I was dying to go to that didn't open until noon- maybe next time! We wanted to get on to our next stop before then, so we didn't wait around for it to open.
New England Long Weekend Itinerary: York Beach right past Kittery, ME
We walked back to our car, and headed across the state line into Maine. We arrived at York Beach, a local recommendation for some R & R right on the coast. This was such a cute spot! It was virtually empty, with the occasional local walking through with their furry leashed friend. We walked the coastline, finding lots of neat rocks, shells and sea life like mussels and hermit crabs. 
New England Long Weekend Itinerary: Nubble Lighthouse
After we got our beach fix, we kept driving toward our next destination, Portland, Maine! But first, lunch. Maine is known for their lighthouses, so a New England long weekend itinerary wouldn't be complete without stopping to see at least one. We stopped at the Nubble Lighthouse, and ate lunch at Fox's for our first taste of Maine lobster. This place seemed a bit more "touristy" than some of our other stops, but fun nonetheless!
New England Long Weekend Itinerary: On to Portland, Maine
Back on the road to Portland, I did some quick research about the city. Nicknamed the "city of the sea", Portland is known for their local and trendy food scene. As Maine's most populous city, it feels busier and more urban than Portsmouth. Did you know that Portland is the craft brew capital of the country, and has more restaurants per capita than any other city besides San Francisco? Pretty neat!
We crossed the drawbridge from Portland into South Portland for a stay at the cutest Airbnb! I was immediately drawn to the way it was decorated, and all the vintage touches throughout the space.
We cleaned up and got ready for dinner. I was curious where we were going after hearing about Portland's excellent food scene. My husband said he made reservations at Fore Street months in advance. You know it's a cool restaurant when the kitchen is out in the open. Hearing your food cooking and the chefs yelling orders brings a vibrant energy to the place. 
We had a wonderful date night. Fore Street features a great wine list and menus that change daily. Yes, not seasonally but DAILY depending on what the farmers, fisherman and foragers bring them. You can't get any fresher than that.
This lack of a menu to study beforehand caused a bit of anxiety for me. I typically like to think about what I'm going to order at least a day in advance, anyone else? Luckily, our waitress was exceptional at walking us through the menu and providing recommendations. 
We ordered the mussels to start with, and I can't say enough good things about them. A large portion of fresh, lemony, garlicky goodness. Don't forget to soak up the leftover liquid from the cast iron with your crusty bread. We decided to split the half maple glazed chicken over with a side of duck fat chard for a veggie. This isn't your Kroger rotisserie chicken thats for sure. It was so tender and flavorful. Trust me on this one, I'm not usually even a chicken person but it was so good. 
Since most of the shops in downtown Portland were already closed, we opted to head back to South Portland after dinner and check out the beach advertised as walkable from our Airbnb. This is a highlight that stands out from the whole trip. So unexpected! At then end of the road our Airbnb sat on was Willard Beach, featuring a beautiful view of Spring Point Ledge lighthouse.
We got there right as the sun started to set, and drank in the views. We walked up and down the shore, taking in the beauty that is the rugged coast of Maine. The proximity to this beach is reason enough for me to recommend a stay 15 mins outside of the hustle and bustle of downtown Portland and instead enjoy the solace of South Portland. 
*Did you know you also get a view of Fort Gorges from Willard Beach? This fort built in 1865 is now a park, accessible only by boat. It was added to the National Register of Historic Places in 1973.
DAY 3: New England Long Weekend
New England Long Weekend Itinerary: Acadia National Park
To no one's surprise, we started off day 3 with food and coffee. We had heard about Maine's famed potato donuts made using real Maine potatoes, local butter and cooked in Canola oil free of preservatives. I wasn't even sure what to expect with a potato donut, but I knew I wanted to try one. 
We stopped at the Holy Donut on Exchange street. You order your drink first; I chose a lavender latte and it was exquisite. After you put in your drink order, you head to the donut counter. With more varieties than you can count, choosing your flavor is half the fun. She said their most popular donut was the dark chocolate sea salt so I ordered one of those, and chose one made from sweet potatoes to add variety- the sweet potato ginger glazed. They tasted like a dense cake donut, but the flavor was so unique and good. 
We were on to the main event of the day, Acadia National Park. From Portland, you have two options. You can take the scenic route on US-1 up Maine's coast, or zip up on I-95. Did you know US-1 is not only the first highway in the country, but also the longest? It runs all the way from the Canada-US border in Maine down to the tip of Florida in the keys. 
We wanted to maximize our time in Acadia, so we opted for the quicker route both ways. Acadia National Park is also within a day's drive from the following cities;
Boston, MA
Providence, RI
Hartford, CT
Burlington, VT
Montreal, Quebec
Albany, NY
From Portland it's only about a three hour drive. 
Acadia National Park is unique in that it is on Mount Desert Island in close proximity to the town of Bar Harbor, ME. We found Bar Harbor to be a bit touristy for our liking, but definitely worth a stop if you need a Maine souvenir. 
If we've learned anything after our trips to Smoky Mountain and Grand Teton National Park, its that you have to get our of the car and hike to get the full experience and take in the preserved, natural beauty of your surroundings. This park has about 145 trials according to All Trails, ranging from easy/beginner friendly to deathly, iron rung scaling mountainside treks. We did two hikes, both of which I would classify as beginner friendly. We hiked a little over 8 miles doing these two trails.
Upon arrival into Acadia National Park, we searched for parking. This is quite a task as the park fills up quickly (we were there on the perfect day in early June). My husband let me off at Jordan Pond House right at 11:00 (when they opened) to put in our name, while he drove around and tried to find parking. He eventually found a spot about a mile and a half up the road and walked back down. After a 30 minute wait our table was ready, and we ate brunch at Jordon Pond. 
They are famous for their Popovers- a pastry baked in a muffin tin with a hollow middle served with butter and strawberry jam. I ordered a BLTT (bacon, lettuce, tomato and turkey) sandwich.
After lunch, we hiked the Jordan Pond Loop trail. It's a 3.5 mile loop with terrain that includes a path, boardwalk trail and occasional uneven rocky surfaces. Overall, I would say its an easy hike. Note that its busy, but provides picturesque lake views with clear water and lush greenery. 
Next, we drove to Sand Beach and parked in the lot. We walked down to the beach first which was very busy. Despite the cold water, there were kids and people playing in the waves. From the beach parking lot, we took the Ocean Path to walk along the coast to see destinations including Thunder Hole and Otter Point. The trail provides plenty of scenic overlooks of Sand beach and spectacular panoramic views.
If you are more adventurous, you can opt for the Beehive Trail or the Precipice Trail. Both include areas of climbing on iron rungs on the edge of cliffs- not for the faint of heart! Or anyone with a fear of heights (me!!) I was just fine with the two trails we hiked, but I think my husband felt disappointed he didn't get to do more of the physically demanding hikes. 
We turned around on the trail once we reached Otter Point, a 110 ft lookout point. If you prefer to explore the park by car, I would recommend the 27 mile Park Loop Road that takes you around the park. Plan for at least 4 hours to complete the loop. 
After more than 8 hours of hiking, we had worked up quite an appetite. Through word of mouth we were recommended Abel's Lobster located near a boatyard. And thank goodness, it was one of our favorite meals of the trip. The atmosphere was so unassuming, with picnic tables and cafe lights strung around the yard with a perfect view of Somes Sound, the only natural fjord in America.
Expect a casual, coastal inspired menu with plenty of lobster prepared in their wood fired lobster cooker. Did you know that Maine lobster is better than lobster harvested from warmer climates because the cold water keep the lobster from absorbing the salt, keeping it sweeter? For this reason, Maine harvests 90% of the lobster in the U.S! 
Abel's Lobster was such a fun last supper on our New England long weekend trip. We started with the cheese board, which comes with a homemade blueberry jam. I ordered the lobster chowder which was to die for and warmed me up on the chilly evening, and my husbands halibut was his favorite meal of the trip. Don't miss this spot! I would highly recommend, especially over all the tourist traps you will find in Bar Harbor. 
I think you would be hard pressed to find a better place to experience the quaint character, magnificent history, picturesque architecture, and exquisite food outside of New Hampshire and Maine. I hope you decide to take your own New England long weekend trip using this itinerary as a starting point. Let me know if you have ever visited, or plan to in the comments below!
Enjoy the journey,
Northeast
Southeast
Midwest
West
Going International? Find more travel guides to inspire a trip across the pond!