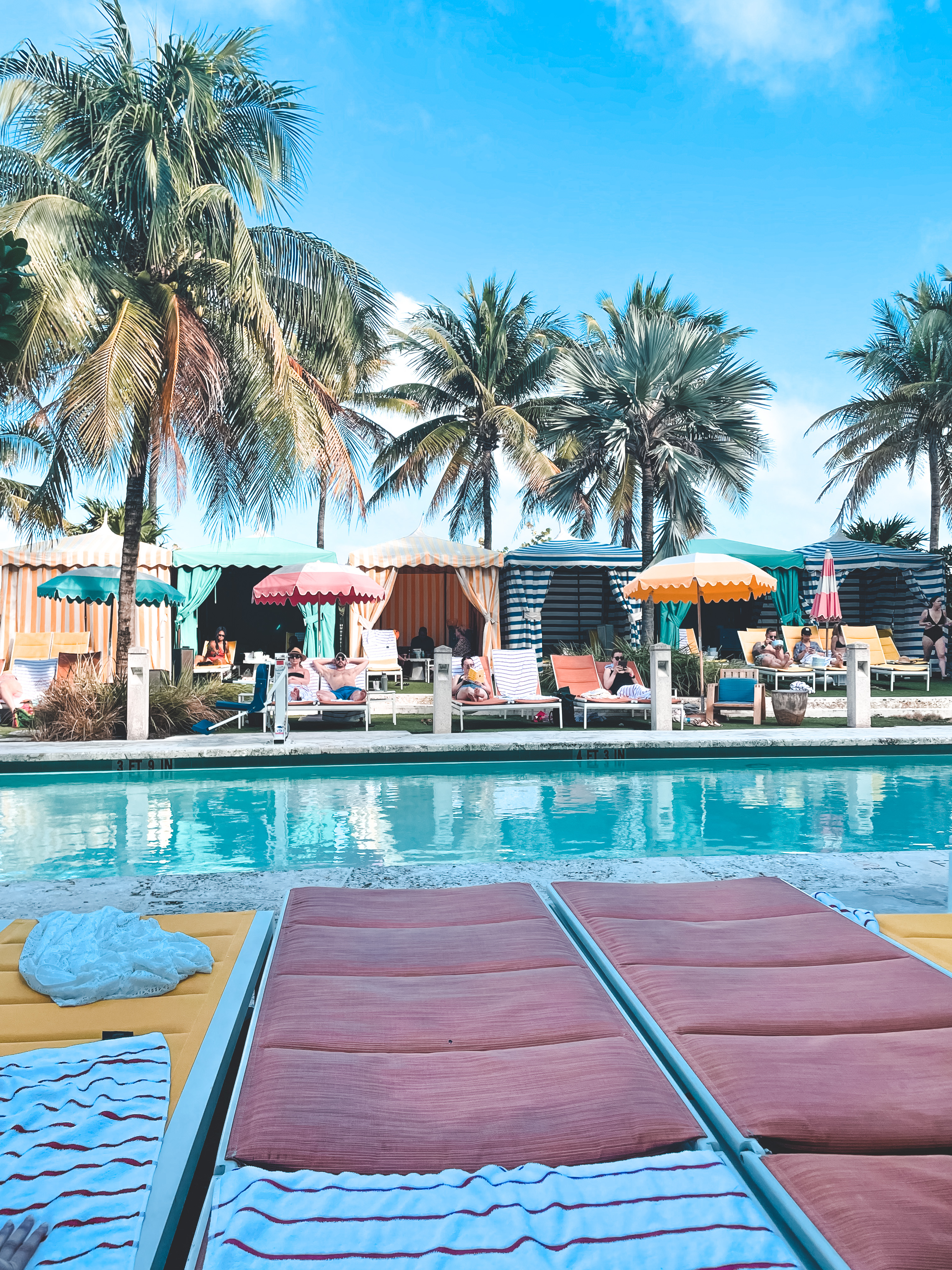 Welcome to Miami! A city worthy of all the praise and attention it's been given + so much more. Find my full 4 day travel guide to Miami beach including a plethora of restaurant recommendations, guides by neighborhood and 4 great places to stay. Oh, and a downloadable travel map to keep everything in one place 😉
I am still not over our extra long weekend trip to Miami, Florida. So much good food, so many beautiful beaches, and such a vibrant, fun vibe. My apologies in advance that I didn't always let the camera eat first because the food was that good. I'm going to walk you through 4 full days of food and fun, navigating all the best neighborhoods.
For a quick itinerary, scroll to the end of this post to find direct links to all my favorite Miami spots! Or download the Google map below to keep all my recommended locations in one place.
Day 1: South Beach
We arrived and headed straight to the fame and action on Miami Beach. I traveled to Miami to celebrate one of my best girls bachelorette party and wedding weekend. The first day was the bachelorette party, so we did a girls day and night at the Confidante Miami Beach. We rented a poolside cabana and enjoyed snack and drinks all day. And bonus- beyond the pool is Miami Beach! So you get to enjoy the best of both worlds.
After a day full of sun, we got ready and experienced Strawberry Moon for dinner. Owned by Pharrell, this art deco Mediterranean pink property is exceptional. Inside the Goodtime Hotel, this restaurant, bar and pool is top notch. A place that is this Instagram-able may easily get away with serving over priced, sub par food (we've all seen it before). But this is NOT that place. The drinks were amazing (try the Art Basil), hummus and moon bread apps for the table, Turkish style pizzas and kabobs for the main event. With food and drinks like that, the aesthetic was just icing on the cake.
Day 2: Guide to Miami Beach
Before we left South Beach, we decided to take advantage of the location for a few more hours. We started walking down on the water at the marina and made our way to Southpointe Park Pier to enjoy the morning air. What I love about Miami is the weather (it was sunny & 75 in February) and how active everyone is! We joined so many locals and dogs on our morning walk.
We walked up South Beach to enjoy the sound and smell of the ocean. Once your calves are ready for a break from the sand, head back to the street and walk up Collins Avenue or Ocean Drive.
We were staying the night at Hotel Indigo back mainland in Brickell, so we left South Beach. We enjoyed a memorable happy hour at the Wharf, positioned outdoor and on the water. After happy hour, we had dinner reservations at Cantina La Veinte. What an experience! Authentic, Mexican cuisine with a large menu that can be overwhelming. But not to worry, the waiter was well versed and offered assistance. I ended up with arroz con short rib (short rib and rice), and it was 10/10. Great flavor profile, so tender and yummy. Everyone was happy with the food and drinks and entertainment from the mariachi band.
We still had some time and energy, so we went to Barsecco. A local recommended we get a table outside, and we enjoyed the hookah and drinks.
Day 3: Key Biscayne
We couldn't stay away from the beach for long, so to explore somewhere new we took the quick trip over to Key Biscayne. We got dropped off at the Ritz Carlton and made our way to DUNE Burgers on the Beach for lunch.
The classic burger patties are a blend of short rib, brisket and chuck- yum! It was a really great burger, especially in paradise (sorry, I had to). We moseyed over to the beach for the rest of the day to enjoy a bit of R&R.
Key Biscayne is lower key and more family friendly than South Beach. Even the waves were gentler. You could wade out forever, definitely take advantage of these beaches and ocean water.
What's a beach day without a few cocktails. The frozen mojito from the bar at the Ritz was the best I've had, and that's saying something (read about my second favorite frozen mojito here). It was so fresh with tons of mint, OJ and just the right amount of ice. Highly recommend.
We headed back inland to Brickell where we stayed at an amazing Airbnb for the last two nights. I'm more of an Airbnb gal myself, and I would recommend this little apartment to a friend for sure. I like the homey feel and to have a bit more space to spread out on a trip. The location is great, and it's still super walkable to other main Brickell locations.
As I'm sure you could've guessed, it was time for another meal. We got ready for dinner at River Oyster Bar. I managed to remember food photos and thank goodness because that Yellowtail snapper… 100% You have to start with at least a few oysters, you are at an oyster bar. I think every entree on the table was thoroughly enjoyed. I loved the pot of mussels I ordered with a side of brussle sprouts.
We had the post toast (party after the rehearsal dinner) at Dolores but you can Call me Lolita. We enjoyed drinks on the rooftop and took in all the city views.
Day 4: Guide to Miami Beach
At this point, we felt we had already done and explored so much but I promise, there's more! We made our way to the Cuban restaurant that has been open for 50 years- the world famous Versailles. There was a bit of await and we got there for an early lunch, but the line moved quickly. The inside decor was so fun- look at the ceiling!
The food was authentic with a fun menu to explore. We don't have a lot of great Cuban options in Memphis, so it was fun to try new things and get a taste of other cultures while traveling. The tostones (smashed and fried plantains) in a citrus and garlic sauce to start are a must. And if you can't decide on a main course, I would recommend the sampler plate. My husband got this and we enjoyed so many dishes we hadn't had before. I got the cuban with a side of sweet plantains.
The wedding celebration was that afternoon and evening. We were shuttled to Deering Estate and enjoyed the most beautiful ceremony and reception. I would made your way down to the estate if you have time and take in the history. It is a 1920's era estate, listed on the National Register of Historic places.
We had time for one final meal the next day before our flight took off back home to Memphis, so we chose one last waterside location. Casablanca Seafood was amazingly fresh, right on the Miami River. Crab stuffed shrimp, paella and more plantains. If I could rave about only one thing from this trip, it would probably be the food. I was so impressed with the consistency! Every meal we had was 5 star, and there were even more places we didn't get a chance to try that I can't wait to explore next time.
Guide to Miami Beach Weekend & Beyond
If you enjoyed this guide, check out some other city guides to get ideas for more long weekend trips within the U.S.:
Northeast
Southeast
Midwest
West
For a quick guide to save for later, discover all the hidden gems & download your custom trip map to save and keep everything in one place.
Fast Itinerary: Guide to Miami Beach
Day 1: Explore South Beach
-Stay at the Confidante, enjoy the pool & beach
-Eat at Strawberry Moon
Day 2: Experience Brickell
-Walk the marina, Southpointe Park Pier and up South Beach
-Stay at Hotel Indigo Miami
-Happy Hour at The Wharf
-Dinner at Cantina La Veinte
-Go out at Barsecco
Day 3: Enjoy Key Biscayne
-Eat DUNE Burgers on the Beach at the Ritz-Carlton
-Beach on Key Biscayne
-Dinner at River Oyster Bar
-Drinks at Dolores but you can Call me Lolita
-Stay at Airbnb in Brickell
Day 4: Take in one last day
-Lunch at Versailles
-Enjoy Deering Estate
Day 5: Travel home
-Lunch at Casablanca Seafood
Recommendations we didn't get to try, but hope to next time:
So what are you waiting for? Miami is calling. So much to do, see, experience and explore.
Enjoy the journey,
Northeast
Southeast
Midwest
West
Going International? Find more travel guides to inspire a trip across the pond!