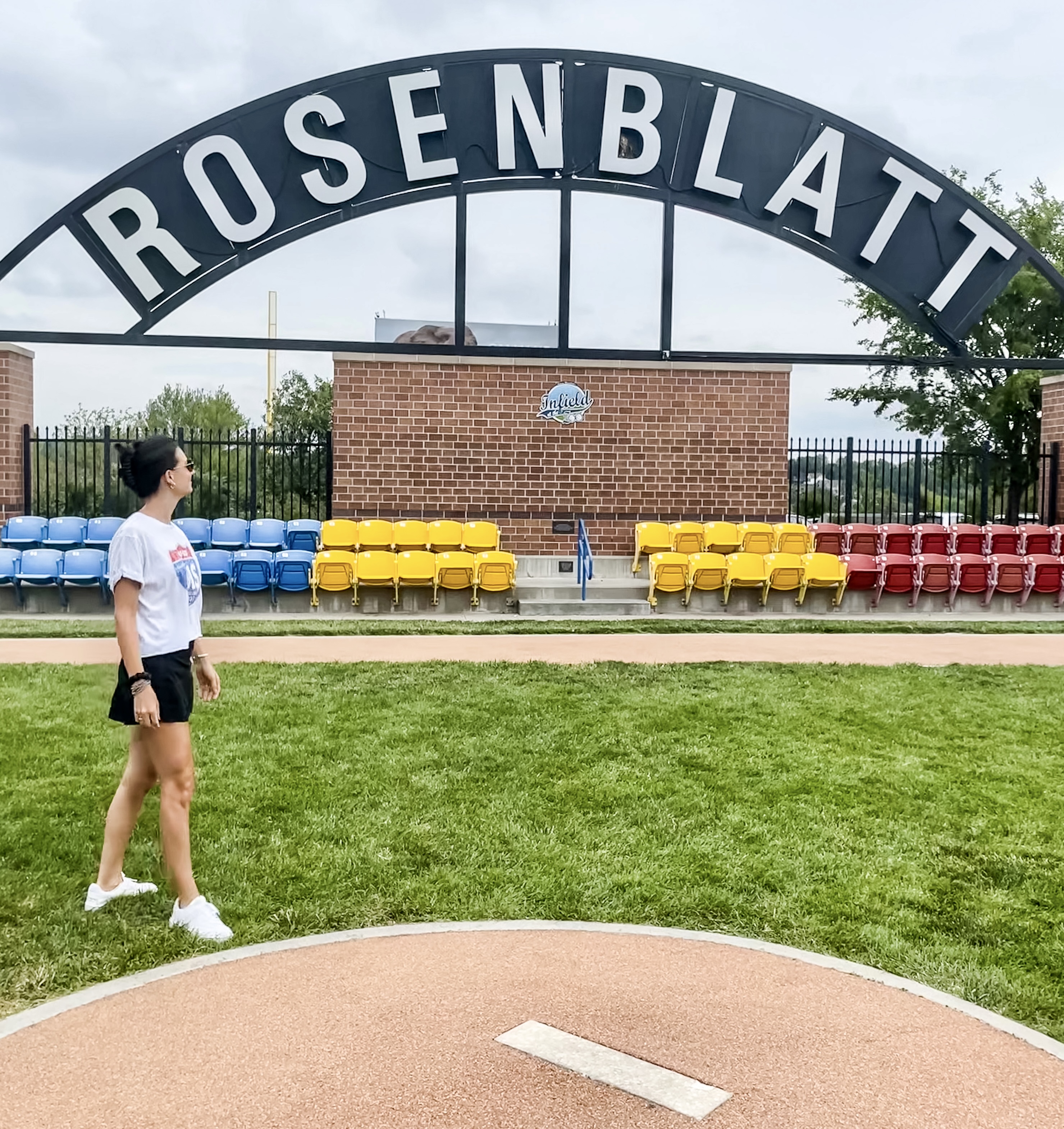 Visiting Omaha for the Baseball College World Series is a bucket list item everyone should experience at least once in their life! And bonus points if your team not only makes it, but wins like Ole Miss did in 2022. I've summed up the best things to do, places to stay, and where to eat (& drink). Read on to discover your all inclusive guide for College World Series fans visiting Omaha.
I tend to prefer to plan travel out ahead of time to ensure I see everything on my list in the most efficient way, especially when I know I have baseball games to work around. I did not get anywhere near checking off all of the sights and restaurants I wanted to see on my pre-written Omaha guide, but we came home with a Championship so I can't complain.
Starting with where to stay, I'll walk you through the best places to grab a bite, sights you must see, and how to get around the city to help you plan your trip included both places I personally enjoyed, and those I wish I had an extra day so I could have experienced.
World Series Fans Visiting Omaha Travel Guide Bonus
To save time, download my whole trip map with all the places I recommend already marked for your convenience! 
Where to Stay in Omaha
In Omaha on the final weekend of the College World Series, the town was extremely picked over. I found a small 2 bed, 1 bath basement Airbnb apartment that ended up being exactly what we needed.
You could tell it was recently renovated, and the apartment above was rented as well (to fellow Ole Miss fans!). But the neighborhood was quaint, near the zoo and Rosenblatt field, and only about a $7-$15 Uber ride downtown to Charles Schwab field (and maybe 10 minutes). It was a perfect home base for the weekend.
Some of our other friends stayed across the Missouri River in Iowa for a better price. A close drive to Schwab Field with a shuttle to take them across the river and back, I think thats a great solution. I would recommend browsing for hotels in Council Bluffs, Iowa to see what you can find there as well.
Where to Eat in Omaha
The list of what I actually got to eat is short and sweet. So I will include restaurants that made my list during the trip planning phase that we didn't have time to try!
The first night, we ate at Blatt which is a sports and rooftop bar across the street from the baseball stadium. The food was typical for bar food, but its convenience to the stadium was nice.
The second night, we followed the crowds to the Old Mattress Factory (the Matt for short), to celebrate our win, and stayed for dinner. I'm not sure if the sweet taste of victory was clouding my judgement, but this was probably the best French Dip I have ever had. You'll have to try one yourself to see if you agree.
On the list of places I was hoping to eat at, but didn't have time were:
– Sonny's: an outdoor beer garden with food trucks and a live music schedule in Aksarben Village
–Herbe Sainte: a southern style cajun influenced restaurant in Aksarben Village
–Saffron Urban Indian: also in Aksarben Village, these colorful dishes made by a chef from Nepal look incredible
–Coneflower Creamery: a handmade ice cream parlor made from local ingredients (& unique flavors)
–Block 16: highly rated farm to table restaurant serving burgers and gyros
–Mas Chingon: excellent looking Mexican food with a fun taco Tuesday
–Early Bird: enjoy a bougie brunch
–Copps Pizza: this was a recommendation from our Uber driver, he said the cream cheese "crab rangoon pizza" is a must!
What to See in Omaha
Rosenblatt field
Johnny Rosenblatt stadium was home to the College Baseball World Series from 1950-2010. Today, you can visit the tribute (which is a little league sized field).
Fun fact: my husband named our cat Oliver Rosenblatt Rone after the old college world series stadium. So we knew we had to visit his namesake as fans visiting Omaha for the first time.
Rocco's Pizza & Cantina
Rocco's is just a stones throw away from Charles Schwab field, and has become a must stop for fans before or after the game. In the past, fans would buy Jell-o shots and the bar would keep a tally for each team during the College World Series. Last year, Mississippi State bought over 2,965 shots shattering the previous record by any school (a mere 863). In 2022, with more SEC schools in the mix the competition was on. Arkansas and Ole Miss were neck and neck until Arkansas got knocked out, then Ole Miss fans bought over 18,777 jell-o shots. Well done.
DYK: The University of Mississippi, aka Ole Miss, is where my husband and I both graduated. Being a baseball fan is a blast, but football tailgating in the Grove is also a bucket list experience. If you do ever find yourself in Oxford, MS, I've got everything you need to plan your trip here.
The Bob Kerney Pedestrian Bridge
The pedestrian bridge spans the Missouri river, connecting Nebraska to Iowa. It's near downtown and the baseball stadium, and worth a walk across when you're in town. You can even be in two places at once! One foot in Iowa, one foot in Nebraska. Pretty neat.
Old Market Passageway
Wander around Omaha's most historic neighborhood, complete with quaint cobblestone and local street musicians if you are lucky. There are lots of restaurants, bars and places to shop in the area to entertain fans visiting Omaha.
Lauritzen Gardens
Lauritzen garden is a botanical garden that was close to our Airbnb, but we didn't have time explore between all the baseball games. It looks like a great place to stretch your legs and enjoy some fresh air and nature.
Found vintage
You know I love a good vintage shop, and this one looked great. Another stop I sadly didn't have time to explore, but if you are looking for a place for some unique shopping, this is your spot. If you go, make sure and keep an eye out for these 10 things!
Henry Doorly Zoo & Aquarium
The zoo in Omaha is consistently ranked one of the highest in the country, if not the world. If we had just one more day, this would have been the first thing we would have added to the agenda.
I hope I have covered everything you will need if you are a College World Series fan planning on visiting Omaha. There is definitely more I'd love to do, so I guess I'll just have to go back next year and cross the rest of the restaurants and sights off my list. If you find yourself in need of more weekend trip itineraries, enjoy reading one of my other guides for these destinations in the U.S.:
Northeast
Southeast
Midwest
West
Enjoy the journey,
Going International? Find more travel guides to inspire a trip across the pond!
–Tour London, England in 3 Days
–Take a Day trip to Oxford, England
-See Liverpool, England like a local!
–Travel through The Lake District National Park, England
-Explore the Incredible City of Bath, England
–Discover 13 Hidden Gems in Edinburgh, Scotland