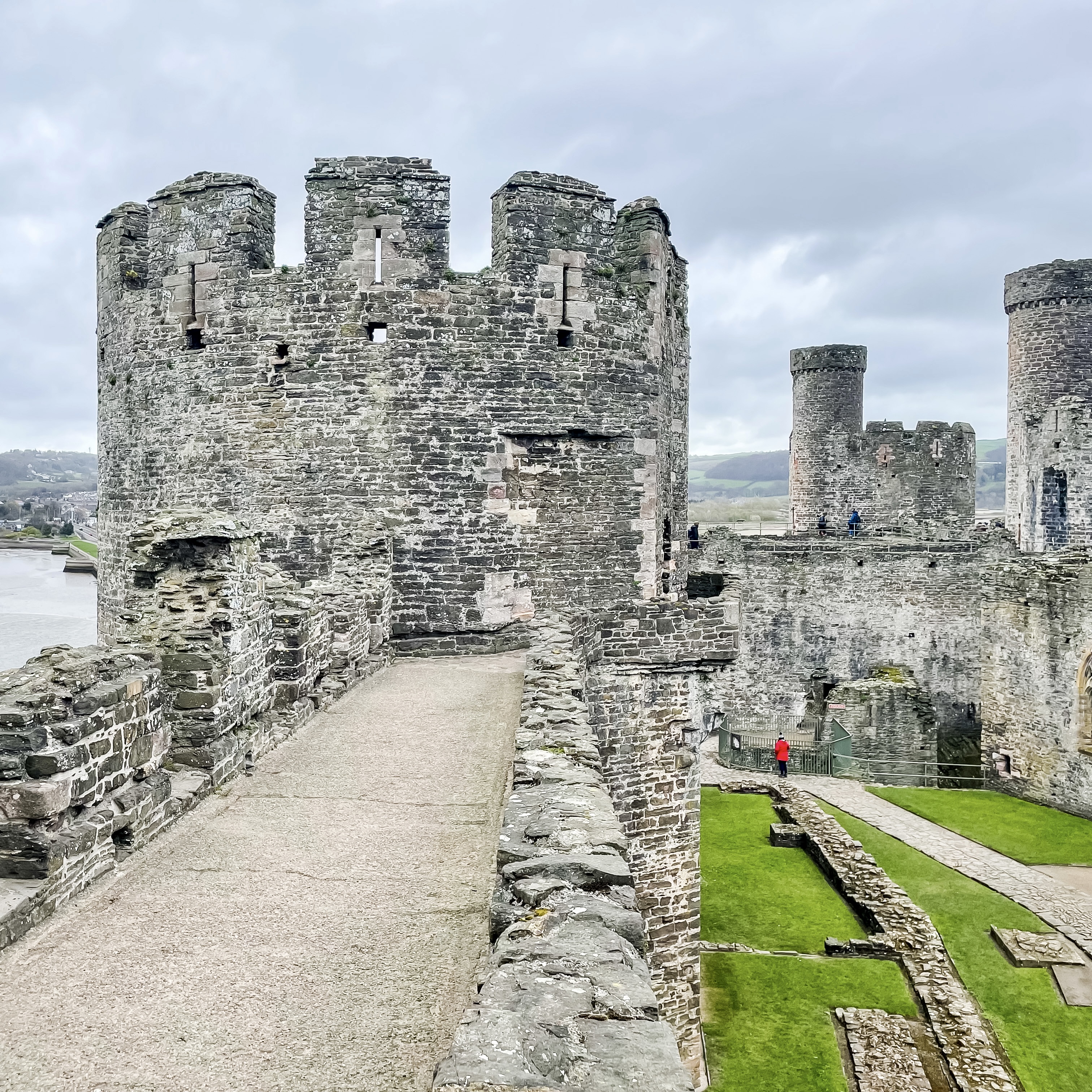 Waking up on the banks of the River Mersey in Liverpool, we got ready for our day shooter to Wales. I would think a car is necessary to fully experience all the sights and terrain we were able to cover in one day. We were lucky enough to have our local friend plan and execute this itinerary, but you could always rent a car for a day (like we did later on in our 2 week UK journey). Read on to find the 5 must see destinations to complete a perfect road trip through Wales!
Wales was our third country, and fifth stop on our grand backpacking trip through Great Britain. Earlier in the week, we had experienced:
-10 famous landmarks in Liverpool
Below, I've outlined the 5 destinations you must see on a road trip in northern Wales.
Wales Travel Guide Bonus
To save time, download my whole trip map with all the places I recommend already marked for your convenience! 
Don't have time to read the whole post now? Pin it here to safely save it for later 🙂
1. Conwy Castle
Built in 1287 by Edward I and last inhabited in 1665, Conwy castle is an amazingly preserved fortress. The castle was our second UNESCO World Heritage site of the trip (after the town of Bath). The castle is known as one of the best examples of 13th century military architecture in Europe. Take some time to explore, and soak in all the history of this small port city from above overlooking the coast, bridges and town.
2. Britain's "Smallest House"
After the castle, take a walk into town and wander the cobblestone streets and small shops of present day Conwy. Speaking of small, pop in the Guinness Book of World Records Smallest House in Britain! Yes, a bit cheesy but fun for only £1.50.
Since you are on the water, now is a good time to try some fresh fish 'n chips. If you are really brave, get some mushy peas (essentially just pureed peas) with your fish for a proper British lunch. We enjoyed our lunch at The Galleon Fish & Chips.
3. Snowdonia
Leaving Conwy, we headed to Snowdonia National Park. Agriculture is big in the area, so you will feel like you are in a fairytale driving among the green fields and all the sheep.
The National Park is a great expanse of preserved nature. In addition, you can leisurely stroll through cute town nearby, reminiscent of an American hiking town with beautiful rivers, nature views, and shops to explore.
4. Snowdon Lookout
Still located in Snowdonia National Park, this is the main spot you must see. Drive up to Snowdon Lookout for the best views in the country. Cross your fingers for beautiful weather if you want a far, clear view. We had some mist and fog but rest assured either way, the colors and elevation make this a must stop destination.
Snowdon is quite imposing, and stands as the highest mountain in Wales. If you are feeling adventurous, there are multiple routes you can take to climb to the top. However, enjoying the breathtaking views from the lookout point was incredible too.
5. Llangollen
Time for the final destination on your Wales road trip. Llangollen is a gem of a town. You've been in the car a bit today, so stop at a proper pub to rest and wet your whistle. And just to be clear- pubs don't always mean you have to order a pint of beer. They also serve coffee and tea. I thoroughly enjoyed a pot of Earl Gray tea at the Corn Mill, and learned proper tea etiquette from a local.
First, pour a bit of tea in your cup to warm the glass. If the tea is still light in color, give the pot more time to steep before pouring your whole cup. After some time, pour a tad more. If your tea is a nice deep color, pour your whole cup. Then add milk and sugar to your liking, stirring it "anti clockwise". Not sure if they was just pulling my leg on that last anti-clockwise part, but I threw it in for good measure.
After you've enjoyed your beverage, make sure and walk to the Llangollen Canal to see the barges going up and down. The canal used to be a major waterway, connecting England to Wales. Today, you can still take horse drawn barge rides through the canal, which is such a unique experience! Additionally, The Pontcysyllte Aqueduct that carries the Llangollen Canal across the River Dee has earned the title of a UNESCO World Heritage Site, making it number 3 on our trip so far! 
During out two week backpacking trip, we found ourselves at a handful of other UNESCO World Heritage sites including: 
–The Lake District National Park
–Old and New Towns of Edinburgh
Wales was such a highlight on our trip, and I'm so glad we made time to wander the northern part of this country. The unique history and culture in itself is inspiring, but paired with the landscape it is not to be missed! Although we made a road trip of it, I'm sure you could find day trips offered by tour companies to take you to many of these destinations.
I hope this guide helps ensure you don't miss any famous landmarks in northern Wales, and enjoy some good food & drink along the way. If you want more information on how to plan a trip, especially an international voyage for a week or two, I share all my planning tips and tricks here.