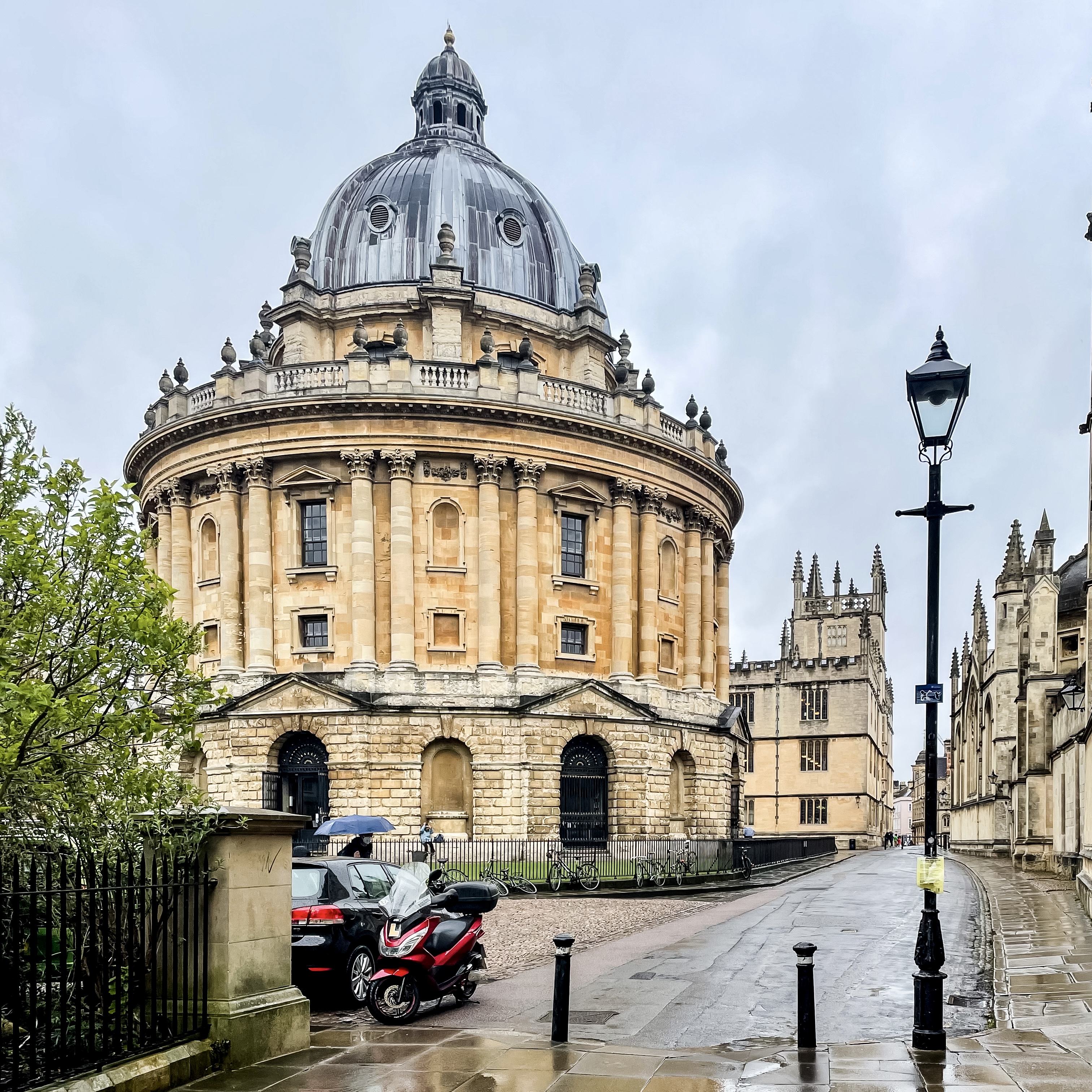 Imagine walking the same streets of Oxford based literary geniuses such as Lewis Carroll, Oscar Wilde, J.R.R. Tolkien and C.S. Lewis. Seeing the historic cobblestone and impressive architecture of the oldest university in the English speaking world, built in the 12th century. Enjoying a gourmet cafeteria style lunch in an old meeting room, built in the 1320s. You can experience all this and more on a day trip from London to Oxford.
Although we could have used at least one more day to finish exploring London, I'm so glad we took this day trip to Oxford. The train system is so convenient and efficient, I recommend at least one if not two day trips from London to see the surrounding areas. On our two week backpacking trip around the UK, we took two train trips from London. One to Oxford, and one to Bath.
We left for the train station to travel to Oxford bright and early. Unlike the airlines, the platform for your train won't be announced until 10-15 minutes before departure time. There is no security or lines you may encounter, so you don't have to fuss about getting there more than 15 minutes early.
About an hour train ride will take you from London to Oxford, where you can walk straight from the train station into town. I had a few landmarks pinned that I wanted to be sure to see, but we mostly just enjoyed our day exploring the city on foot.
Starting with sights you must see, I'll walk you through the best places to grab a bite and how to get around the city to help you plan your day trip from London to Oxford.
What to See on a Day Trip to Oxford
First, we walked to Christ Church. This college is probably the most popular and widely talked about thanks to a bit of Harry Potter that was filmed inside. It was an expense to get in, so we just enjoyed it from the outside.
Next, we walked to Radcliffe camera, and then wandered around the city streets until we were hungry for lunch. We passed Elephant & Child, the pub that hosted a writing group that included J.R.R. Tolkien and C.S. Lewis. It was closed for renovations, and according to locals was "rubbish" anyway, so we didn't go in.
In the afternoon, we bought tickets to the Botanical Garden. They celebrated their 400 year anniversary in 2021. The history is really mind blowing across the pond, and never ceased to amaze me. The greenhouses and outdoor plant beds were neat to meander through, and read about. It was a very peaceful way to get some fresh air and enjoy the variety of plant life
Next door, we rented a chauffeur to go punting down the River Cherwell, an extension of the Thames from London. You can take a boat out yourself, but I recommend a chauffeur to make the most of your venture, see more of the river and learn fun facts along the way. Our chauffeur was a local born and raised in Oxford, and currently attending college there. He was full of knowledge, and we thought it was a fun coincidence that my husband was born and raised in Oxford, Mississippi, a University town home to Ole Miss and named after Oxford, England.
Fun Fact- Oxford escaped bombing during WWII untouched. The Nazi's were told to avoid the area in order to keep the colleges unharmed so they could take over and use them after the war.
We leisurely made our way back to the train station, stopping in a few shops along the way before making our way back home to London for the night.
Where to Eat on a Day Trip from London to Oxford
For lunch we stopped at Vaults & Garden, a neat cafeteria style eatery inside the old "Congregation House", a room built in the 1320's. With a menu that changes daily, you get to choose a main + 2 sides for your lunch tray. We really enjoyed the food and atmosphere.
How to Get Around Oxford
Oxford is the perfect size to explore on foot, which is my favorite type of transportation. Cheap, good for your health, and easy to see to all the major sights. It is well connected to the rest of the country by rail, and taking the train is a piece of cake. If you book about 1-2 months before, the tickets are very affordable. However, these tickets are general not flexible "anytime" tickets, and only apply to the specific date and time you booked.
I hope I have covered everything you need to know for a day trip from London to Oxford. If you want more information on how to plan a trip, especially an international voyage for a week or two, I share all my planning tips and tricks here.
Save this post for later on Pinterest so you can refer back to it when you need it!