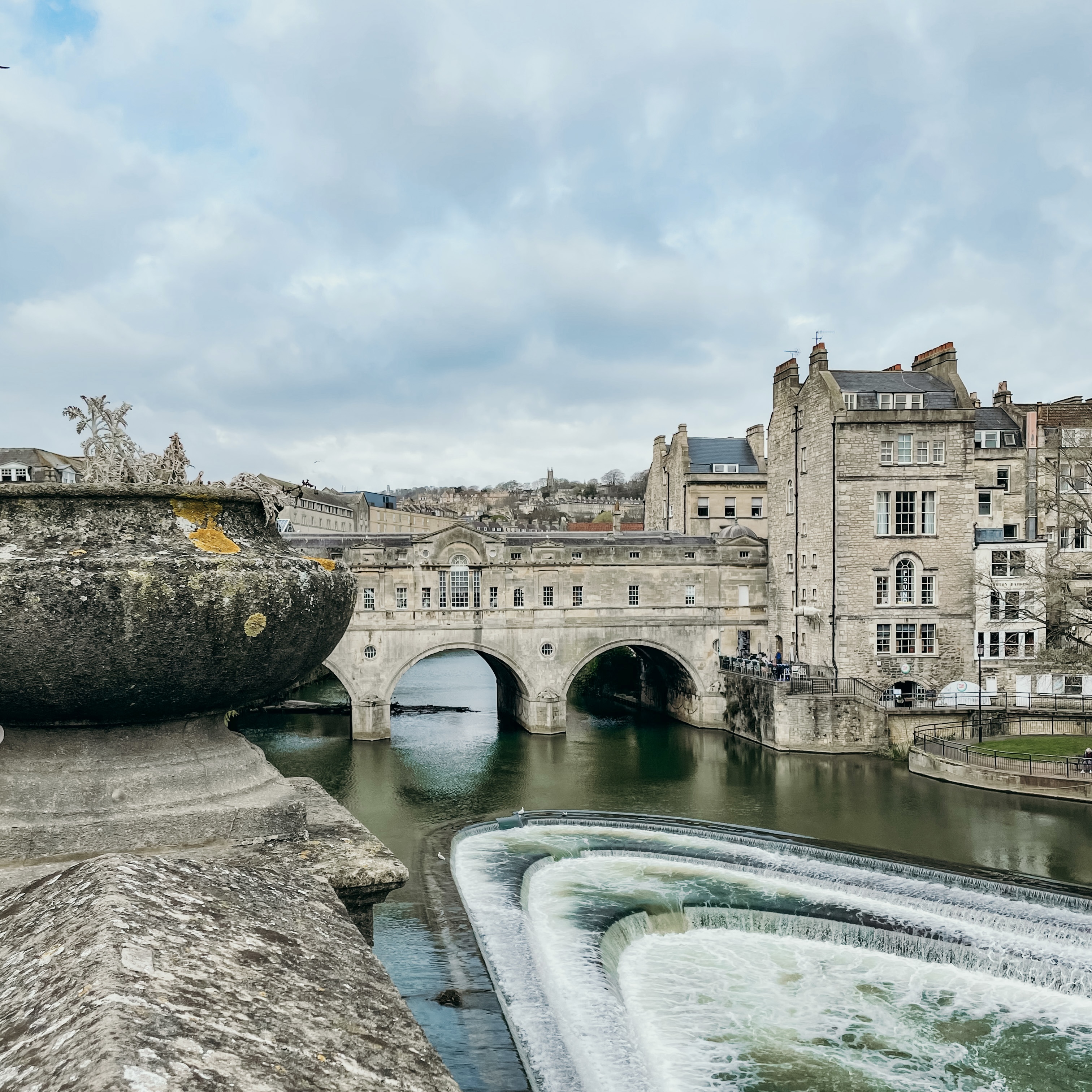 Chosen as one of the "great spa towns of Europe", Bath, England is not to be missed. Wander through the streets immersed in Georgian architecture. Imagine relaxing in the same hot spring as the Romans in 60 AD, overlooking the city below from an open air rooftop pool. You can experience all this and more in one day in UNESCO World Heritage Site Bath, England.
Although we could have used at least one more day to finish exploring London, I'm so glad we took this trip to Bath. The train system is so convenient and efficient, I recommend at least one if not two day trips from London to see the surrounding areas. On our two week backpacking trip around the UK, we took two train trips from London. One to Oxford, and one to Bath.
We woke up bright and early to say goodbye to London, and boarded the train at Paddington station to Bath. A bit over an hour, and you're there! No train transfers necessary. We arrived at 9:15 and could not check in until noon. We walked in the direction of our Airbnb from the train station, and stopped at Thoughtful Bakery for a bite and coffee.
My first lesson in British food happened in Bath. I ordered a sausage sandwich, expecting a sausage, egg and cheese biscuit (there was no description underneath the food items so I didn't know). After I ordered, the server asked "brown or red?". Puzzled but not wanting to seem clueless, I chose brown and hoped it would be a type of gravy.
The food came, and mine was just large links of sausage on toasted focaccia bread with a side of thin sauce that was brown. We laughed, and I tried it because it did smell good. The sausage was actually great quality, and dipped in the brown sauce it was amazing.
It turns out "red sauce" is ketchup, and "brown sauce" is a common condiment in England that tastes similar to Worcestershire sauce. I would be having more brown sauce every chance I got.
Starting with where to stay, I'll walk you through the best places to grab a bite, sights you must see, and how to get around the city to help you plan your trip and round out your 1 day Bath travel guide.
World Heritage Site Bath, England Bonus Travel Guide
To save time, download my whole trip map with all the places I recommend already marked for your convenience! 
Where to Stay in Bath
When traveling, I usually like to scope out a place outside the city center to get a feel for how the locals live, and explore a part of town away from the hustle and bustle of main tourist attractions. In Bath though, this is not necessary! The town is so walkable, we found amazing accommodations centrally located and right across from a famous pub, The Raven.
This one bedroom Airbnb was absolutely perfect for the night. On the second floor of a historic building, it feels homey and has enough space to spread out. It was a great home base.
What to See in World Heritage Site Bath England
Our first step of the day was to buy swim suits so we could enjoy Thermae Bath Spa! You could always skip that step if you follow my husband's Boy Scout inspired golden rule for packing- never leave home without a swim suit and rain jacket.
Neither of us followed that rule, so we headed to TK Maxx (the British version of TJ Maxx) and had fun shopping, turning it into a competition for who could find the most affordable swimwear.
We walked to Thermae Bath Spa to buy tickets. There was availability as it was a Tuesday, but you may want to call/purchase in advance if planning to visit on a weekend.
I cannot recommend the spa enough! It was such a nice, slow pause from the crazy pace we had set on the trip in London and Oxford so far. Among the four floors was the perfect balance between peaceful relaxation and interaction in the hot & cold therapy area to keep both me and my husband happy for 2 hours.
They ask for the privacy and respect of all guests that you leave your phones and cameras in the lockers, so we abided. There's something fun about having an experience without electronics, and only your memories to remember it by. Here's a shot from their Instagram to give you an idea of what the rooftop is like…
There are 4 floors total inside the spa. Thermae spa uses the same ancient mineral water from the Roman spa next door (first used in 60 AD!!). The ground floor has the basement indoor spa pool with jets. The water is very comfortably warm. The second floor includes the recovery and therapy rooms. Inside, there was a sauna, 2 different steam rooms infused with botanical scents, an ice bath, relaxation room, and heated and cooled waterfall showers. The third floor has a lookout deck. And finally, the fourth floor has an open air rooftop pool that overlooks the entire city. It is truly surreal. The water is warm enough to keep you warm even with the outside air temperature in the 40s and a good bit of wind.
Fair warning for the ladies, you will need to take a full shower (hair and all) after this experience, so make sure you have allotted time for that into your day before making any other reservations. They do provide showers, shampoo, conditioner, body wash and hair dryers for your convenience. I can't recommend this little oasis enough. If you are like me, and just need a minute to relax, catch your breath and regroup on vacation, this spa is a must.
Once we cleaned up, we started our self guided walking tour. We walked past the ancient Roman Baths. You can definitely pay to go inside, but we felt we spent enough time and money already experiencing the same water for ourselves at Thermae Bath Spa.
Next, walk to the Pultney Bridge that spans across the River Avon. It is such a breathtaking area, especially in the spring.
We extended our walk up to the Royal Crescent, built over 240 years ago. The impressive, crescent shaped building was used as a filming location for the Netflix show Bridgerton.
*Did You Know? Bath is the only city in the UK to be designated a UNESCO World Heritage Site in its entirety! During out two week backpacking trip, we found ourselves at a handful of other UNESCO World Heritage sites including:
–The Lake District National Park
–The Pontcysyllte Aqueduct in Llangollen, Wales
–Old and New Towns of Edinburgh
Where to Eat in Bath
As mentioned, we started the day with breakfast at Thoughtful Bakery. They were kind enough tot let us hang out, store our bags and use Wifi until we could check in.
After the day's festivities, we walked back into town for a pre-dinner pint at the Raven Pub. A cultural and historic gem centrally located off Queen's square (and across the streeet from our Airbnb!).
Then, we walked to dinner at Portofino Oyster & Fish restaurant. We had the freshest oysters, richest seafood risotto and creamiest clam spaghetti. Excellent service and ambience as well. Overall a 5 star experience, would recommend to a friend.
How to Get Around Bath
Bath is the perfect size to explore on foot, which is my favorite type of transportation. Cheap, good for your health, and easy to see to all the major sights. It is well connected to the rest of the country by rail, and taking the train is a piece of cake. If you book about 1-2 months before, the tickets are very affordable. However, these tickets are general not flexible "anytime" tickets, and only apply to the specific date and time you booked.
This day in Bath was just what we needed to recharge. The town is small enough it can easily be explored on foot, the spas are a once in a lifetime experience, and dinner was the cherry on top. Don't sleep on Bath! Make sure you schedule at least a day trip here if you ever find yourself in the UK, you won't regret it. If you want more information on how to plan a trip, especially an international voyage for a week or two, I share all my planning tips and tricks here.
Save this post for later on Pinterest so you can refer back to it when you need it!