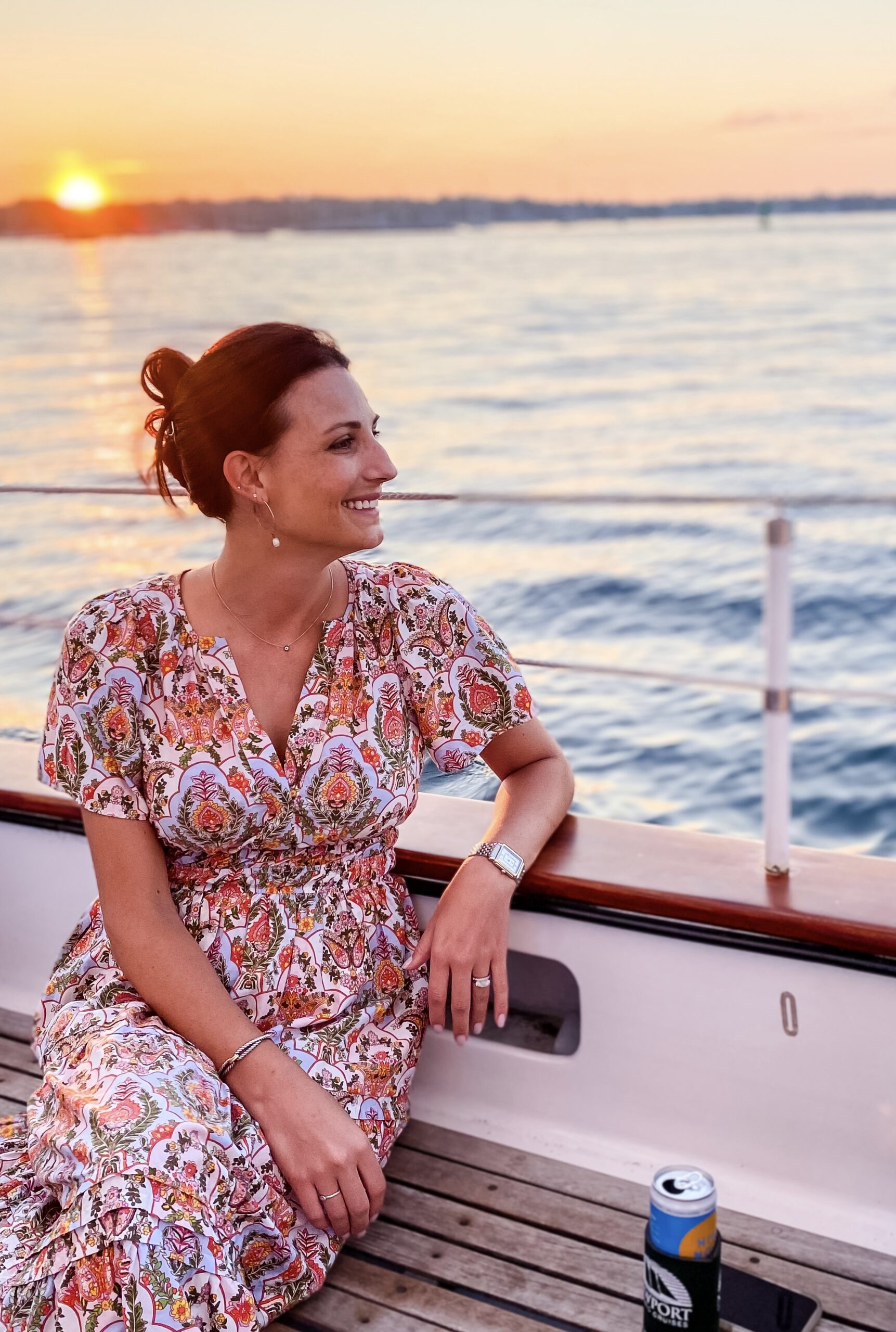 Welcome to the city by the sea. Experience mouthwatering fresh seafood, gorgeous views, and mansions that inspired the HBO series The Gilded Age. If Newport was good enough for the Vanderbilt's, it's good enough for me! I've summed up the best things to do, places to stay, and where to eat. Read on to discover your all inclusive travel guide to Newport, Rhode Island.
I don't know about you, but traveling post baby seemed so daunting. 4 months postpartum, I figured I would be ready for a long weekend away. But when the time came, leaving for the first time was so much harder than expected! But that's a story for another day.
Luckily, once I arrived Newport was incredible and we had a great time. Let's cover where to stay, places to eat and what to do.
This itinerary is honestly perfect for anyone, but I was traveling with 3 girlfriends over a long weekend. Our trip was inspired by the book "People You Meet on Vacation" by Emily Henry. Newport was not mentioned, but the book gave us the travel bug. Due to an affordable Thursday-Sunday Allegiant flight into Providence, RI, we decided to plan a trip to Newport!
(If you will also be in Providence, scroll to the end of the post for some recommendations on how to spend an afternoon in Rhode Island's capital!)
First, let's cover a little history. The colony of Rhode Island was founded in 1636. They were the first colony to declare independence from Britain on May 4, 1776.
Newport, Rhode Island is a coastal town located on Aquidneck Island.  We flew into Providence then called an Uber to take us 33 miles to Newport (roughly 40 min and $40-$60). Newport is also only 74 miles from Boston, and 180 miles from NYC!
Due to Newport's rich history, you will find examples of colonial architecture as well as Gilded Age mansions. These homes served as summer vacation cottages to New York's wealthiest industrialists including the Vanderbilts and the Astors.
The mansions were built between 1870-1915 based on royal palaces in Europe (think Downton Abbey). In fact, the mansions are featured in HBO's show The Gilded Age. Today many of the cottages are owned and run by the Preservation Society of Newport County and open for tours, while others were converted to academic buildings for Salve Regina College in the 1930's when the owners could no longer afford to pay taxes. If you are interested in seeing these gorgeous cottages, you'll want to do the Cliff Walk and pay to tour a few! More on that later.
Travel Guide to Newport: Fast Facts
-Newport is home to Rhode Island's oldest Roman Catholic church (built in 1848), St. Mary's. John F. Kennedy and Jackie Bouvier were married here in 1953.
-Newport has the second-oldest Jewish congregation in the United States who meet in the oldest synagogue in America (Touro Synagogue).
-White Horse Tavern is the oldest Tavern in America. It opened in 1673 and you can still eat there today. (I recommend getting reservations in advance!)
Don't have time to read the whole post now? Pin it here for later!
Travel Guide to Newport
STAY
There are so many great accommodation options I found in Newport. Ultimately, we chose Hotel Viking based on their option for a 2 queen room. The hotel is walking distance to the wharf, everywhere we ate and drank, the Cliff Walk, and just a short Uber ride to the beaches. The hotel also has a great rooftop bar and spa.
Originally opened in 1926, Hotel Viking is a member of the Historic Hotels of America, an exclusive group of 276 hotels chosen based on their age (at least 50 years old), designation as a National Historic Landmark and recognized as having historic significance. Other hotels on the list include the Peabody Hotel in Memphis, TN and Hotel Monteleone in New Orleans, LA.
Hotel Viking has almost a century of history within its walls. They still have original key boxes located behind the Front Desk and the brass letterbox in the Lobby.
We almost stayed at Sea Breeze Inn, a boutique hotel with spacious rooms located near Easton's beach. Maybe next time! Newport also has so many Bed & Breakfasts, smaller boutique Inns and historic acommodations. There are even lots of options on Airbnb worth checking out too.
DO
Now that you know where to stay, lets go over all of the fun activities to keep you busy while you are in Newport!
SEE
The Cliff Walk is a must. We woke up early (ish) Friday and walked from our hotel to the north end entrance near Easton's beach. The Cliff Walk is a 3.5 mile walking trail along the coast with views of the Gilded Age mansions along the way, including cottages converted into Salve Regina University, The Breakers, and Marble House (the Vanderbilt's summer homes).
Most of the walk is paved, but some of it is unpaved or even rocky (see above). Carve out at least 3 hours if you want to complete the walk, and tour mansions along the way like we did.
We bought a duo house pass and decided to tour the Breakers and Marble House. The mansions exceeded my expectations! With an app you can download and follow along with a self guided tour, you will see and learn so much about some of the wealthiest families of that time. The architecture is truly breathtaking.
Also if you are interested, scenes from HBO's The Gilded Age were filmed inside The Breakers, The Elms, Marble House, Rosecliff, Chateau-sur-Mer, and Hunter House. Discover which scenes from the show were filmed where here. 
SAIL
Newport is known as the City by the Sea, and holds the title of sailing capital of the world. You must get out on the water to experience the city from this vantage point. A sunset sail is the perfect solution. We booked an hour and a half outing from Sailing Cruises on the Adirondack II, an 80 foot pilot schooner. This was definitely a highlight of the trip!
SPA
Saturday morning we woke up and spent a slow morning at Spa Fjör within Hotel Viking. I enjoyed a massage/facial combo with Melissa and a 20 min session in the infrared sauna afterwards. It was heavenly!
BEACH
Finally, you can't visit a coastal town without spending some time at the beach. Newport (technically Middleton) has multiple beach options. We chose Sachuest Beach (aka Second Beach) because locals said it was less crowded, and has less seaweed.
We went Saturday afternoon, and honestly it was still a bit crowded for my liking! But a good way to spend an afternoon nonetheless, especially with Del's frozen lemonade truck parked nearby.
Travel Guide to Newport
EAT
Let's move onto a section for the foodies and cover where to eat! New England seafood is such a treat, and Newport has lots of excellent choices.
Our first night in town we dined al fresco at the Black Pearl's Waterside Patio. Known for their Clam Chowder, they did not disappoint. I also ordered the catch of the day which was Sea Bass, on a bed of orzo with brocollini.
For breakfast, we walked right across the street to Picnic Bakery & Cafe and never looked back. Yes, we got breakfast and/or coffee here every morning! Highly recommend an iced lavender latte and the salmon bagel plate. Oh, and any of the sweet bakery items as well!
You have to try Pasta Beach for lunch. Not only do they have great food, but the light and bright aesthetic paired with banana leaf wallpaper is so cute as well. I got the Norma, a play on eggplant parm and was not disappointed.
After our sunset sail, we headed to The Mooring located right on the waterfront for dinner. Without a reservation, we got lucky to sneak four seats at the bar on a busy Saturday night. They have more great fresh seafood options to enjoy as well.
Finally, Flo's Clam Shack is a must for lunch before your day at the beach! The lobster roll did not disappoint, and it was fun to try the famous clamcakes (similar to a hush puppy, but breaded with pieces of clam inside). The views are great, and worth checking out this Newport staple since 1936.
DRINK
Last but not least, here are a few places to grab a happy hour or late night drink! For unparalleled views of the sunset over the water, look no further than Castle Hill. This historic home is the former summer cottage of Harvard marine biologist Alexander Agassiz. Built in 1875, it has since been converted into an Inn. It is off the beaten path, and even if you are not staying there you have options to dine, or just go to enjoy a drink in the Adirondack chairs on the expansive lawn (which is what we did).
You can make reservations, and we did for Thursday night. However, we learned the town is very fickle about a little rain, and will cancel if the weather is iffy at all. Since our Thursday reservation got rained out and they were fully booked through the weekend, they recommended we come before 6 for a seat on the lawn another night. We did not make it that early, and showed up around 7:45 right before sunset Saturday night. We did not immediately get a seat, but were still able to stand on the lawn and enjoy the views.
Newport has lots of rooftop options, but if you are staying at Hotel Viking, Top of Newport is both convenient and perfect for happy hour! Friendly bartenders and great views make this an excellent way to spend some time before a sunset sail or dinner.
Finally, Top of Pelham hosts dueling piano shows after 8:30! We were lucky to walk in and enjoy standing room free of charge, but they do offer tables for $50-$100 you can reserve. This is a fun way to catch some live music while you are in Newport.
Travel Guide to Newport: Summary
That covers everything you need to know for a long weekend in Newport! If you are flying in to Providence, RI like us, here's a few more recommendations on what to do & see while you are in Rhode Island's capital city!
An Afternoon in Providence
If you arrive in Providence early enough, grab coffee and some breakfast at 7 Stars Bakery on Broadway.
From Broadway, walk to Federal Hill to enjoy Providence's little Italy neighborhood (voted one of the top 5 in the country). Grab an authentic canolli from the iconic 105 year old Scialo Brothers Bakery and enjoy it at the famous fountain in De Pasquale Square. If you are lucky, some of the local Italians who have lived in the neighborhood their whole life may be out and about and willing to share some of the history with you firsthand.
Next, take an Uber to Brown University to tour this Ivy League school. We found some chairs in the Main Green and enjoyed the mild New England weather (& let our food settle so we could go eat more).
Finally head to Nicks on Broadway for a late lunch. We ordered a few drinks and a lot of small plates and everything exceeded expectations! Amazing oysters, mushroom crostini and a local cheese board. Highly recommend! From lunch, we got our Uber to Newport where we spent the rest of the weekend.
I hope this inspires you to book that trip to Rhode Island! Even though it's the smallest state, it packs quite a punch. Let me know if you have any questions, or need help nailing down your itinerary.
Enjoy the journey,
Enjoyed this post? Save it for later on Pinterest!
Northeast
Southeast
Midwest
West
Going International? Find more travel guides to inspire a trip across the pond!
-Discover how to spend 2 weeks backpacking in the UK