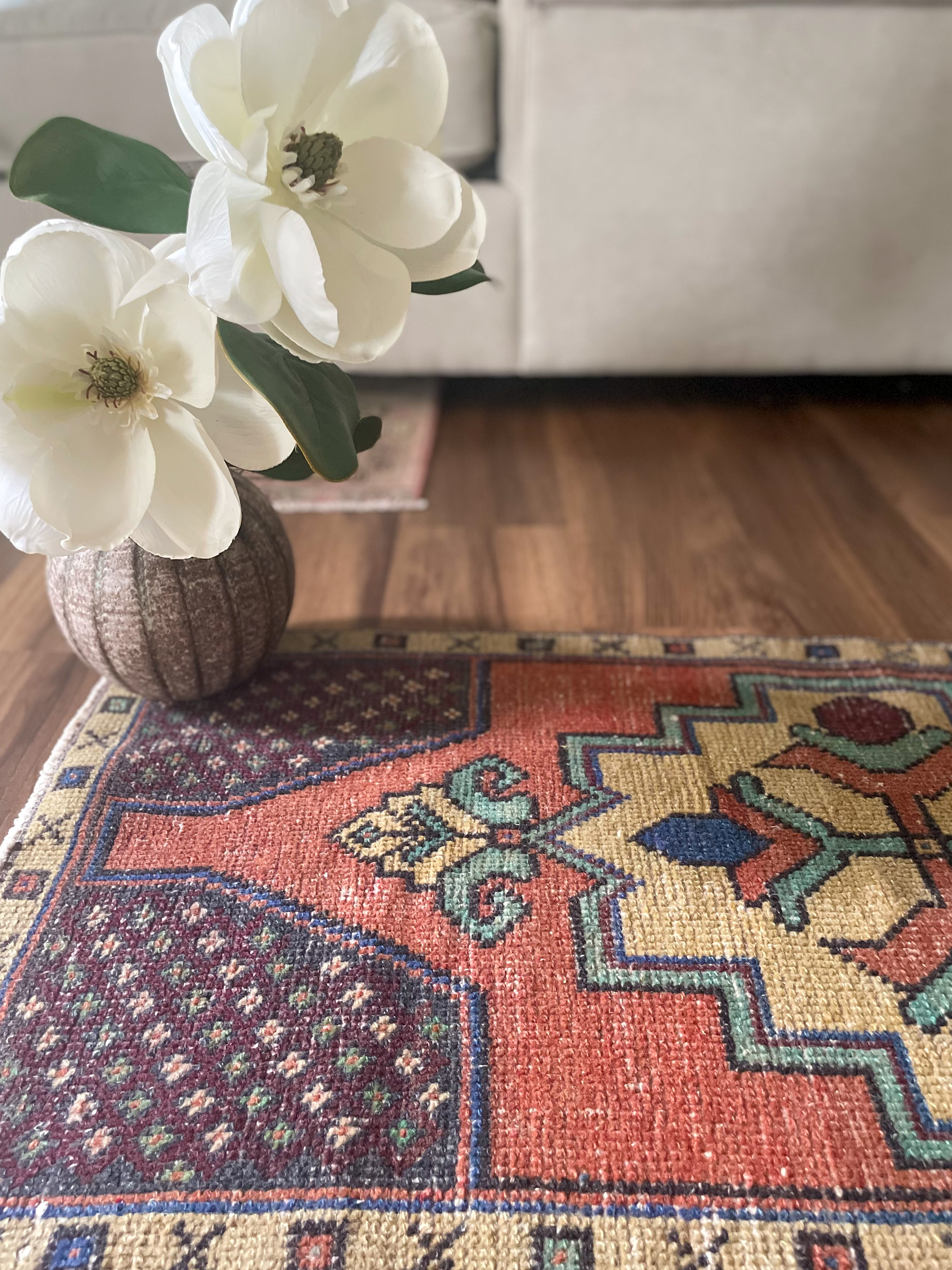 Have you seen more of the unique, colorful, patterned vintage rugs lately? Love what you see, but not sure where to look? Or how much to pay? Vintage Turkish rugs have caught my eye as well and I have started a small collection. I will spill all my inside tips from the best locations for a Turkish rug in your home, where to shop, and how to care for your new antique!
Let's start by talking about where to style your rug…
11 Ways to Style Vintage Turkish rugs
Bathroom
The most inexpensive rugs are going to be smaller, often referred to as "minis". These are typically the perfect size to go beneath a 30-40 inch vanity, or even a single sink in a small powder room. A pair of mini rugs work well for a larger bathroom with two sinks, or a longer runner to span the length of the vanity. A slightly larger rug looks great in front of a tub as well.
Entryway
The mini size works great as a door mat. They are not completely flat due to the hand tied knots, so keep in mind the amount of clearance you have under your door. Love the contrast against the black door? Me too! I'm so glad I took the leap and decided to paint my interior doors black.
*Bonus: Curious how much one of these rugs costs? Learn general pricing information with my free Ebook!
Wall Art
These minis or fragments of rugs (being sold on their own now solely for this purpose) make beautiful and unique wall art. You can hang them on the wall as is, or frame them. Often, the mini rugs are sold in pairs which could hang as a set for wall art.
Nursery or Bedroom
A vintage Turkish area rug is perfect underneath your bed, or as the focal point of a nursery. I prefer to keep my bedding neutral, so a rug is a great way to bring color and help anchor the room.
Living Room
Vintage Turkish rugs make great area rugs. Similar to Persian rugs, Turkish rugs bring an upscale feel to a space. Turkish rugs tend to be more modern with straight, geometric designs, while Persian rugs have more rounded designs, often with medallion shapes in the middle. Oushak rugs are a type of Turkish rug, typically deemed the highest quality and most elegant. Other Turkish rug styles tend to be more boho.
Kitchen
Vintage Turkish rugs go great in a kitchen. You could use one as a runner in front of the sink, or as an area rug to fill up a larger kitchen if you have an open concept space. The wool holds up to stains and traffic well.
*Bonus: Want to know how to clean and care for your rug so it lasts through the ages? Download my free Ebook to ensure you have the knowledge to keep your rug looking good.
Stairway
Have you seen the new trend of DIY folks ripping the carpet off of their stairs and installing a runner? I am here for it. I think it adds so much character to an otherwise basic space. To step it up a notch, some people are using vintage Turkish rugs on their staircases. What a great use for these vintage beauties! Find a step by step tutorial here from Pennies for a Fortune to see how she installed rugs on her staircase.
Hallway
The runners look beautiful down a long hallway. Because they are handmade, they come in all different shapes and sizes. You are sure to find one to fit your space perfectly, and bring a pop of color to an otherwise dull and difficult to decorate space.
Laundry Room
There aren't many things that can make doing laundry more tolerable, but adding a vintage Turkish rug may be one of them. Bring some pattern, texture and color to a space reserved for chores and try to enjoy yourself.
Not ready to make an investment on one of these rugs yet? Shop my favorite Vintage rug dupes here (the mini size is under $20, and the runner is under $25!)
Bar Cart
How cute is the fragment framed above the cart and the mini on the floor? Above, below, in front of, next to… these rugs are so versatile and can be used to accessorize in so many different ways! And if bar carts are your thing, you may want to learn more about how to style them.
Closet
Who said your clothes don't deserve a pretty space too? I think this is a perfect location for a vintage Turkish rug of any size. I laid a rug down in our closet, and I love how it fills the space perfectly.
What makes Vintage Turkish rugs so special?
Tell a story with texture and color
The designs woven into these rugs often tell a story. Different shapes, colors and patterns have symbolism and can be interpreted similar to verses of a poem. You can learn more about the ancient art of rug weaving from Six Vintage Rugs.
The dyes used to color the fabrics come from organic materials. The color is typically extracted from nature- such as flowers, roots, vegetables and insects. These dyes outlast synthetic dyes, even in direct sunlight. It is neat to know you own a piece of history that is unique, natural and handmade.
Did you know the organic nature of the fabric and dyes may lead to varied color saturation throughout the rug? Some may see this "fading" as a bad thing, but it can actually make your rug more valuable?? It proves that the rug is authentic.
Craftsmanship
Hand knotted Turkish rugs stand the test of time. Their quality comes from use of organic materials such as wool, cotton and silk fibers, and natural dyes. If you turn your rug over, you will see all the hand tied knots. The better quality, the more hand tied knots per square inch you will find. These rugs can take months to even years to complete.
Investment
Like a fine wine, these rugs get better with time. They retain their value, and their textures and patterns have existed for thousands of years which means they will never go out of style. Often, these hand-knotted rugs can be passed down for generations if well maintained.
Where to Shop Vintage Turkish Rugs
Download my vintage Turkish rug Ebook to learn about all my favorite places to buy! From local stores to online sources and Instagram shops, I've got the inside scoop. Get instant links to 10 of the best sellers to start a collection of your own.
Vintage Turkish rugs can come with a price tag, but you can keep them forever. My experience with manufactured rugs using synthetic dyes and materials is that they need to be replaced every few years.
Worried about your taste changing over time? Like I mentioned above, there is such a big demand for these rugs and they hold up so well you can always re-sell. These vintage rugs have been made for thousands of years, so I believe their designs are timeless.