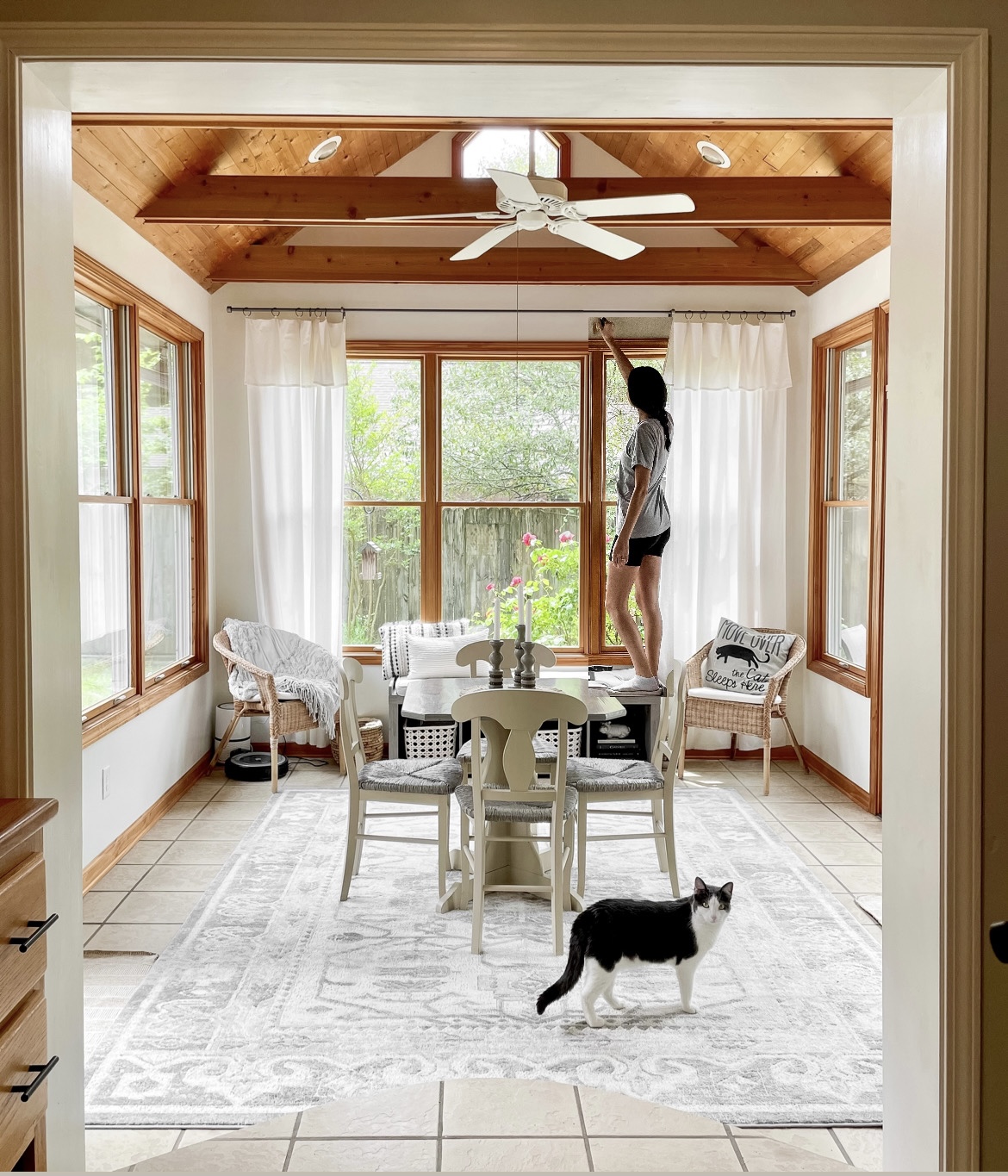 If you are planning to paint your walls yourself but have a few questions, you've come to the right place. I've put together a step by step tutorial on how to paint the walls of an interior room of your home. I will share all of the supplies you'll need, and each small step to ensure you get professional results without having to pay for them.
When we bought our Riverdale Ranch in 2020, we decided to paint every surface. Every wall, piece of trim, door, and ceiling in our 1800 sq ft new home. This was quite an undertaking, and taught me so much along the way. Now, I can paint a room in 3 hours tops, but this took practice, and refining my technique. Read on to learn how to paint your first room so you can achieve results you are proud of.
 This post contains affiliate links for your convenience which may reward me in the event of a sale. Note that I only recommend tools and products I have personally used and loved.
Supplies to Paint your First Room:
Paint: Any interior paint of your choice. For more information about how to sample paint, choose paint sheen, etc. head to my Paint 101 post here
Paint brush: Purdy 2" Clear Cut or Wooster 2″ Short Cut
Step 1: Prep 
First, you will want to prep your walls for paint. Fill in nail holes or other blemishes with DryDex spackling. It goes on pink, and dries white in about 30 mins. Depending on the type of imperfection you are filling, you can use a putty knife or just press it in with your finger. Once the spackling is dry, it's time to use your sanding sponge to smooth flush with the wall.  
Run painters tape along the top of your baseboards to prevent paint splatter and lay out your drop cloth if you choose to use one. I would be more prone to use one over carpet probably, but typically don't take the time to lay one out over my LVP (Luxury Vinyl Planking). Disclaimer- I still splatter, but it's easily cleaned up on tile or other hard surfaces.
I also remove all electrical outlet and light switch plates. They easily unscrew, but be sure to keep up with the screws. I keep them all together in a baggie.
Step 2: Prime 
Remember what you learned in Paint 101 about primer, it's cheaper than paint. First off, using primer cuts down on the number of coats of paint you will need, making the overall project cheaper. Second, it covers any stains or smells that might be on your walls, especially if you use Kilz. This is the brand I chose specifically for this reason- we had 30+ years of cigarette smoke and tobacco on our walls. I was able to banish the smell naturally with the help of Kilz primer, and a few other tricks. Third, it will ensure the paint color you are using shows its truest shade on the wall without any potential bleed-through or undertones from the previous color.
Did you know you can get your primer tinted? Just ask your paint store (or tint it yourself like I did for my garage!). This can  be helpful if you are planning to paint using a dark color, and require less coats.
Need help choosing a paint sheen, color, or quantity? You can find all that and more in my Paint 101 post.
Step 3: Trim 
Using a 2" paint brush, trim out your room. This includes next to the baseboards, crown molding, electrical outlets, window trim and door trim. The stiff bristles on the two paint brushes I recommended in the supply section above provide excellent sharp lines to help you "cut in".
First, you'll pour 1-2 inches of paint in your handy pail. Start away from the ceiling or trim you are cutting in against, and work your paint brush up into the cut line. Dip your brush, wipe the excess off your brush against the pail, paint up into your cut line, then feather it out below. Dip, wipe, paint up to cut, feather down.  
Step 4: Roll 
After your room is trimmed it's time to roll. To start rolling, begin in the middle of the area you are working in . Roll out in a "W" or "V" pattern to spread the paint. If the paint starts drying, don't roll back over it. If it's still wet, it's ok to roll into it if you need to. Want to watch a video to visualize what this should look like? This if my favorite. Do I look like this? Absolutely not. He also uses a much longer paint roller stick and I'm sure has lots of practice, but it's something we can all aspire to.  
Overlap the brush marks from your cut line with your paint roller to ensure an even "stipple". Stipple is a fancy word for the soft stubbly texture left over by the roller sponge nap. You want that soft texture to be uniform on the wall, even over the trimmed areas where the paint brush left it smooth or potentially with brush strokes.
Typically if you prime, a room may only need 1-2 coats of paint. The paint can will tell you specifically how long you need to wait between coats. But the general answer is the paint should be dry to the touch in 1 hour, and ready for the another coat in 4 hours. Always inspect your walls in natural sunlight to see any spots you may have missed. 
And there you have it! I promise, I am a firm believer that any human is capable of painting interior walls. I don't think the learning curve is that big, and it's always worth it to do it yourself in my book rather than hire it out. We primed and painted every. single. room. in. our. house. And I had never picked up a paint brush before! Take the time to learn how to do it the right way, and let me know if you have any questions.