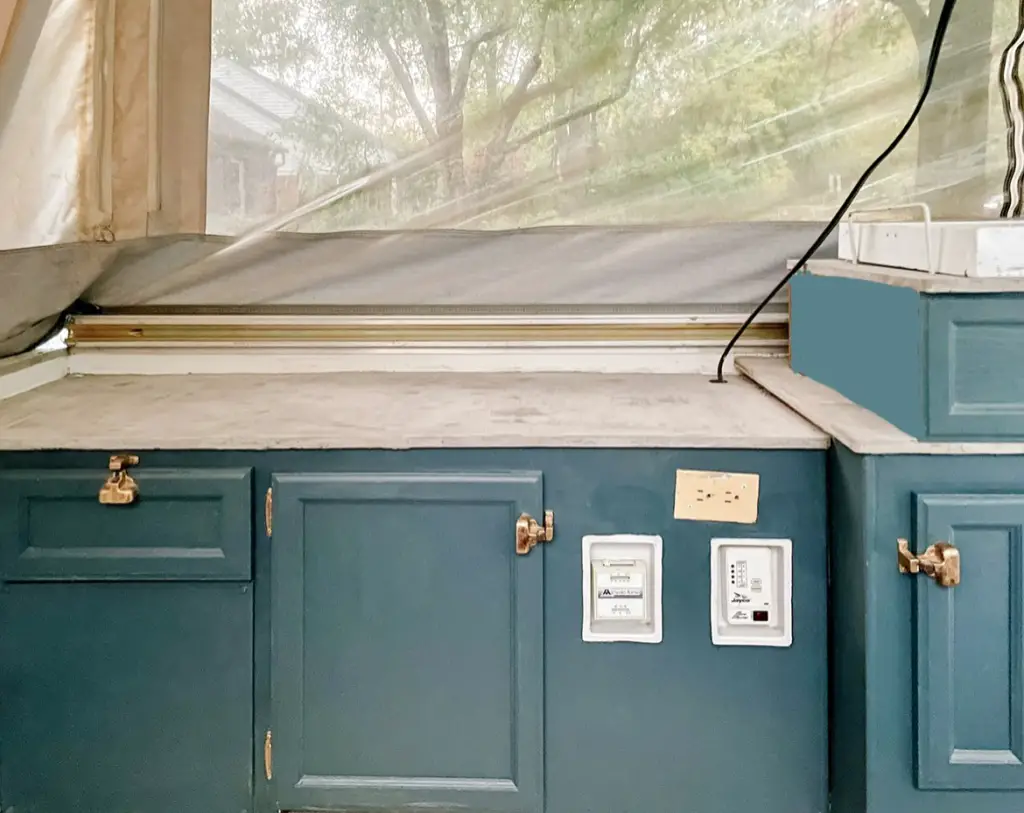 Covid has caused a lot of change- notably in the way families feel comfortable traveling. Whether temporary or permanent, a lot of folks have stayed out of the sky and instead hit the road! And what better way to travel than a pop up camper? As long as the bones are good, I can help you refresh the rest if you decide to go the pre-loved used camper route like me. Keep reading for a step by step tutorial to learn how to paint wooden camper cabinets with maximum durability.
This may be the craziest purchase I've ever made. But sometimes, you get an idea and can't help but see it through. I was able to help a neighbor remodel her RV, and went down the rabbit hole of used camper renovations. I had to get my hands on one of my own. 
It's important to do your research on the front end to know what to look for in a used pop up camper, and what to avoid. If this sounds like something you might be interested in, read up on 6 considerations to buy a used camper without regrets.
So far the dated, beige countertops have been updated with a DIY faux concrete technique. Next, its time for the cabinets! I know I've made a bold statement in the past sharing my opinion regarding 5 reasons NOT to paint your wooden cabinets…. but the situation in Piper the pop-up is different.
In such a small space, you only have so many opportunities to make a statement. And I wanted to go dark and moody with the cabinet color. Read on to learn how to paint cabinets with durability to last (something that is REQUIRED in a pop up camper).
This post contains affiliate links for your convenience which may reward me in the event of a sale. Note that I only recommend tools and products I have personally used and loved.
SUPPLIES TO PAINT CABINETS
220 grit sanding sponge (optional)
Rag
Vinegar and water solution
Kilz Adhesion Primer or PPG Gripper primer.
High quality Interior latex paint: I chose the color Midnight in NY by Behr
STEP 1: Prep the cabinets
As far as prep work goes, all that is required is to clean the surface of the cabinets. I used a 70% water, 30% white vinegar solution to wipe everything down. The goal is to remove any dirt, grease, or substance that will affect the quality of paint application.
Lots of tutorials I came across recommended using TSP to clean the cabinet surface. TSP (Trisodium Phosphate) is a heavy-duty chemical cleaner safe for walls, woodwork and floors found at most hardware stores. I get hesitant using hard core chemicals, and I typically prefer natural cleaning solutions. I also did not like that it would be a 2 step process of cleaning all the surfaces, then rinsing all the surfaces. If water/vinegar was enough to clean the interior walls of our house after 30 years of smoking I'm sure its enough for this camper.
You can sand the surface if you want, but it is not necessary. The general recommendation is if the wood is not smooth to the touch (think old wood, chipped paint, etc.) you want to sand it so the surface feels smooth before applying paint.
Depending on how many cabinets, you may also choose to remove the doors and drawers. I have a steady hand, so I chose to keep the cabinetry intact during prep and painting.
STEP 2: Prime
This is possibly the most important step, so don't skip it! If you plan enough in advance, order Kilz Adhesion Primer for the cabinets. In my case, I assumed I'd be able to find it somewhere local but couldn't, and didn't want to wait for it to come in from an online order. Instead, I used PPG Gripper primer.
It's important to pick the right primer for your project. The primer will prevent any bleed through of color from previously stained wood. The primer will also seal any imperfections so your paint will roll on evenly.
If you aren't sure you have the right primer, do a test piece then perform the scratch test. After the primer has dried, run your fingernail down the cabinet and see if the primer comes off. If it does, you need a different primer.
One coat of primer is sufficient. And don't worry if it's streaky, as long as you got a good solid coat on a little streak is ok.
One final tip: I have written about it before, but never chosen a dark paint color so have yet to do it myself. Did you know you can get primer tinted? I absolutely should have done that this time since I knew I was going to paint the cabinets a darker color. Using tinted primer helps to cut down on the coats of paint required to cover it. Next time…
STEP 3: Paint
Picking a high-quality paint that is meant to last is a good idea for this project. I used Behr Dynasty Interior Eggshell Enamel, which is a latex paint.
Ok, so now that the type of paint is chosen you must decide on color. The walls of my house are light and bright, but I keep writing about how dark and moody paint is in. What better time to go bold than on the interior of a camper!
I was drawn to this rug, and made all of my design choices from it's color pallet. I narrowed the cabinet color down to four choices- from left to right: Kendall Charcoal by Benjamin Moore, Midnight in NY by Behr, Down Pipe by Farrow and Ball, and Pewter Green by Sherwin Williams. I purchased samples of each, and painted on a white background to get a true estimate of color. Against the rug and floor, my choice was clear: Midnight in NY! I love the bue/green/gray hues and that the deep color is more saturated than the more plain gray options.
I decided to free hand the cabinets and trim by hand without painters tape to avoid an RV painters tape fiasco round 2. Using my trusty Wooster paint brush, I cut in the edges and brushed the flat surfaces with it as well. You could also roll the doors with a paint roller, but in such a small space I found it was tidier and quicker to just use the same brush to paint all the cabinet surfaces.
I needed two coats of dark teal paint over the white primer. Had I tinted the primer, I might have gotten away with just one coat.
STEP 4: Seal
The jury may still be out on this one, but I've seen recommendations to seal your cabinets with a final coat of Polyurethane to ensure a scratch and stain proof finished product. I have the triple thick polyurethane product, but have not applied it yet. I'm waiting to see how durable the primer and paint are during the rest of the camper projects, and will apply the Polyurethane as a last resort if necessary!
So speaking of those additional projects, I still plan on:
-Installing vinyl plank flooring
-Spray painting the table legs and appliances
-Updating the existing hardware
-Re-upholstering the cushions
-Updating the drapes
-Decorating and finishing touches