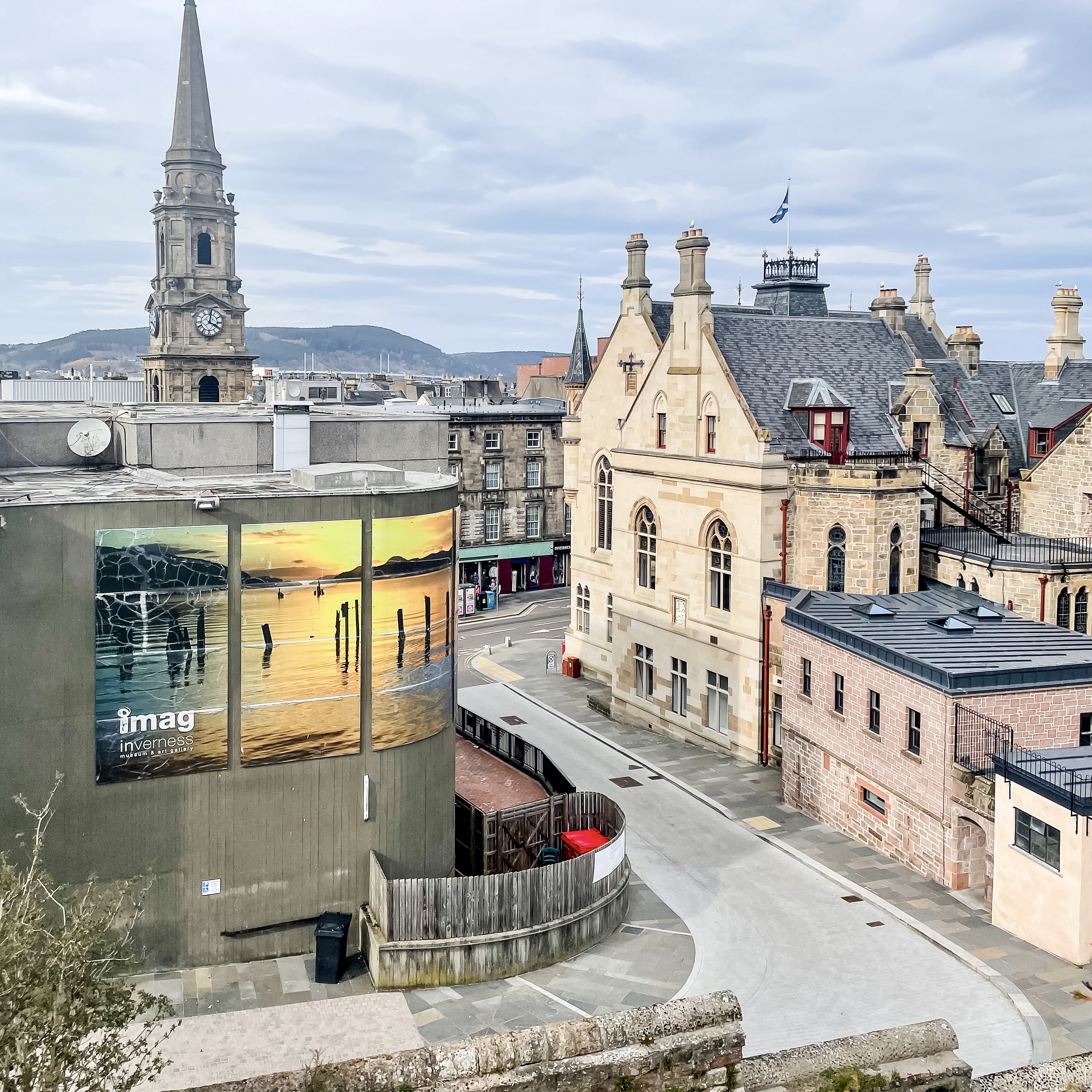 A trip to the Highlands is a must if you are traveling to Scotland. And Inverness is an obvious choice to stay over for a night. Known as the unofficial capital of the Highlands, I will share the best ways to spend a day exploring the beautiful scenery, sights and history of this gorgeous part of Scotland. Welcome to your Inverness Day Guide!
Inverness was a destination we explored on days 10 & 11 of our grand two week backpacking trip throughout the UK. We chose to rent a car and drive from the Lake District National Park in England, to Inverness, Scotland. The choice to rent a car is yours, but I have outlined some considerations and a list of pros and cons for you. My husband was adamant about wanting to drive, and it does allow you more independence.
Don't have time to read the whole post now? Pin it here to safely save it for later 🙂
Starting with where to stay, I'll walk you through the best places to grab a bite, sights you must see, and how to get around the city to help you plan your trip.
Inverness Day Guide: Travel Bonus
To save time, download my whole trip map with all the places I recommend already marked for your convenience! 
Where to Stay in Inverness
When traveling, I usually like to scope out a place outside the city center to get a feel for how the locals live, and explore a part of town away from the hustle and bustle of main tourist attractions. In Inverness though, this is not necessary! The town is so walkable, we found amazing accommodations at the Radisson River Ness Hotel, centrally located and right across from the famous pub, Hootanany.
I have nothing but truly great things to say about the River Ness Hotel. The location is perfect (with or without a car), the front desk staff was helpful and accommodating, and the rooms were spacious with a good full size shower (a luxury in budget friendly European hotels). For the price, we would not hesitate to stay here again.
A note on parking- there is a paid public parking garage a few minutes away that we used, which was not a big deal. But just note there is only pay by the hour street parking directly in front of the hotel.
What to See in Inverness
First, we drove our rental car to Culloden Battlefield. If you are a fan of the TV show or book series Outlander, you will be familiar with this location. If not, I'll give you a little background.
Culloden was the sight of the last battle of the Jacobite uprising against the British in 1746. The Jacobites were a group of mostly Scottish clansman, opposing the crown and fighting for freedom from the British under the leadership of Bonnie Prince Charlie.
The battlefield at Culloden is solemnly well-preserved; a mass grave site and memorial to the enormous number of lives lost that day in just a few hours. It is a heartbreaking site and tale, but an important part of Scottish history. The defeat of the Jacobites here marked not only the end of the uprising, but the end of the Scottish Highlander way of life. Clans were outlawed, tartan was banned, and the hereditary right of landowners to govern their estates through local courts ended.
*For more accessible Outlander sites in Scotland, check out my entire dedicated post here!
After Culloden, we drove to the Clava Cairn stone circle. Although not the same stones Claire used to travel back in time (yes, another Outlander reference), some believe they were a loose inspiration. For those not interested in Outlander, the stones are still a fascinating reminder of the past. Clava Cairns is a burial ground from the Bronze Age, nearly 4,000 years old. The stones are similar to Stonehenge, but more convenient to get to and the site is much less crowded.
If you drive to Clava Cairns, you will more than likely pass the Nairn Viaduct. It's worth a stop to marvel at the Roman architecture and snap a photo, especially in the spring when all the yellow flowers are blooming.
Next, we drove south to see Loch Ness. Although we weren't interested in finding Nessie, we did want to see the largest lake in Scotland. There are many points on the lake you can visit, but in the interest of time and gas we chose the nearest coast. Dores Beach is on the northern edge of Loch Ness, and just a 20 minute drive from Inverness. The lake, mountains and scenery are truly breathtaking. But be warned, its chilly! There were locals taking a swim, but I wouldn't recommend it.
From Loch Ness, we drove back to Inverness to explore the city on foot. After parking the car in the public garage, we took an informal self guided walking tour. We walked down High Street, popping in and out of shops along the way. We made our way to the Inverness Castle. Despite being under construction, there was still lots of neat history at the site, and great views across the River Ness for you to enjoy.
Where to Eat in Inverness
Our friends from Liverpool spoke highly of Gregg's, equating it to how Americans view McDonald's fast food. They shared there is nothing better than a sausage roll from Gregg's on a road trip. So, we stopped at the only one in Inverness on our way back from Loch Ness for a quick and cheap bite. And… we were not fans! The sausage roll is comparable to a pureed savory sausage toaster strudel (I think they called the meat "minced", but to me, a speech therapist, it's pureed). Or maybe it's more similar to a hot pocket.
Regardless, trying it once was enough for us. I'm glad we could say we had one, but we'll stick to McDonalds from now on. In their defense, this location is rated 2.2 on Google. So maybe try a different location with better luck.
For our first dinner we ate at The Water Front, across the river from our hotel (but still walking distance!). They served seafood and traditional Scottish fare. We enjoyed wonderful crab cakes, fish pie, clam chowder and finally a plate of sticky toffee pudding for desert. What exactly is traditional Scottish food? I've written a whole post to help you navigate Scottish (& British) menus, along with the must try traditional cuisine.
For dinner the following night, we had fun with the 2 course menu at The Mustard Seed. Reservations are recommended, but we got lucky to get a table for 2 just walking in. The building is an old church converted into a restaurant, retaining the double height ceilings and many other structures from its past life.
If you find yourself looking for a pint and some live music after dinner head to Hootanany, conveniently located a few doors down from the River Ness Radisson Hotel! We had a few pints and listened to traditional Scottish songs performed live by local musicians. It was icing on the cake after a great day in Inverness.
Inverness Day Guide: How to Get Around
The city center of Inverness around the river is very walkable. You can see everything within the downtown area on foot. However, to see some of the other sites mentioned above I would recommend a car. If driving on the other side of the road isn't for you, they offer plenty of tours that will take you to Culloden and Loch Ness on a day trip.
The highlands are such a treat. The unique history and culture in itself is inspiring, but paired with the landscape it is not to be missed!
I hope this guide helps ensure you don't miss any famous landmarks in Inverness, and enjoy some good food & drinks along the way. If you want more information on how to plan a trip, especially an international voyage for a week or two, I share all my planning tips and tricks here.