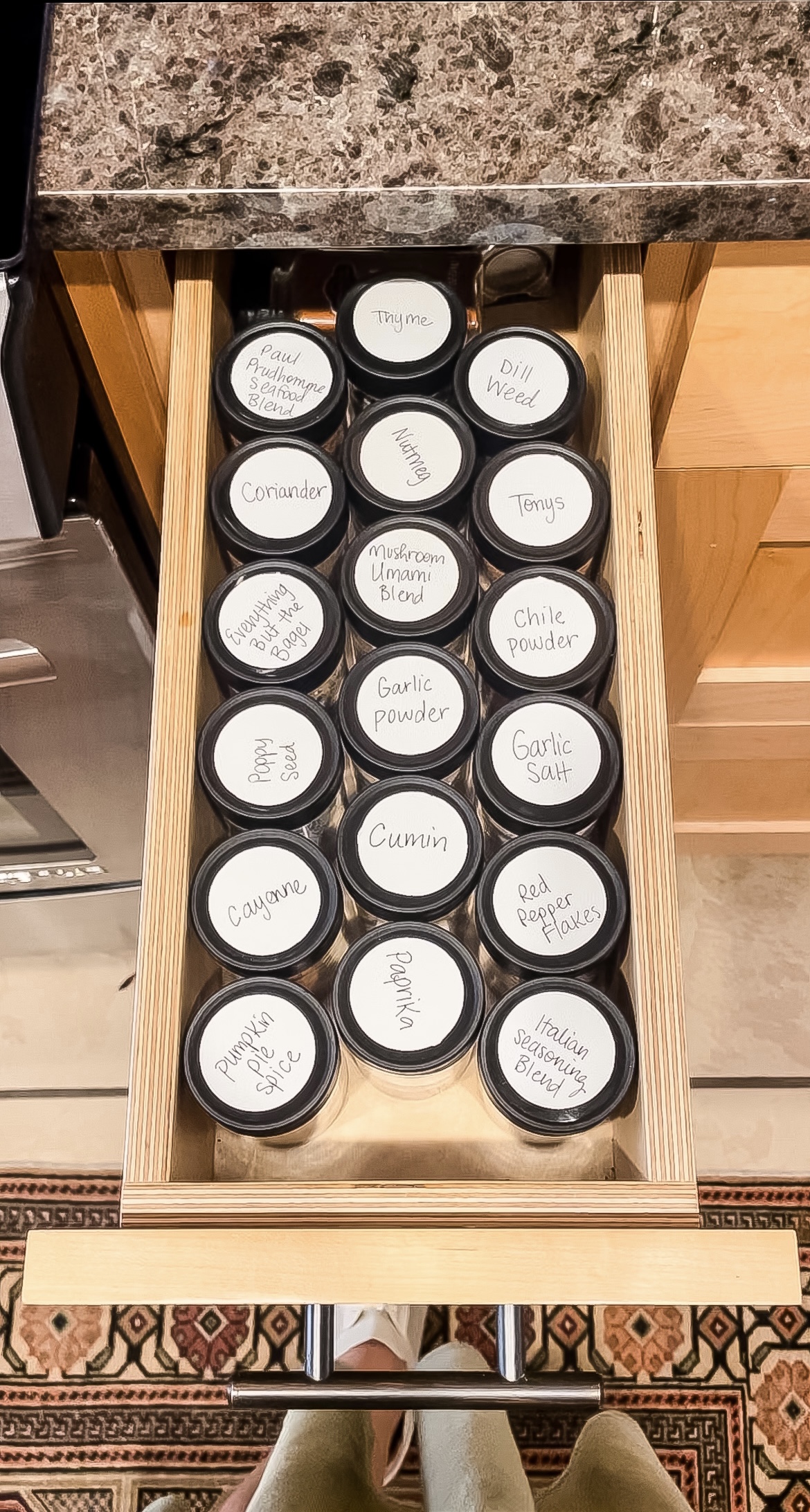 Learn how to achieve an organized spice drawer in one afternoon- both easily and affordably!
Home organization doesn't have to be complicated. Tackling projects one small piece at a time makes the task feel manageable, and still gives you that sense of accomplishment. As part of my new year reset in January, I chose 3 areas I wanted to re-organize and outlined the projects and supply lists.
Then, the urge to nest before our first born baby kicked in and coincided with spring cleaning. We moved some things around in the kitchen to make room for baby bottles, feeding supplies and new baby kitchen appliances. Our spice situation was a mess; both inefficient and taking up lots of space.
We have small drawers to the right and left of the stove that are perfect for spices. However, the drawers are not tall enough to accommodate the average height of store bought spices. I found a way to affordable update this space and consolidate all the spices into one drawer by storing them standing upright and labeled for only $35. Let's dive in to the whole project.
Don't have time to read the whole post now? Pin it here to safely save it for later!
This post contains affiliate links for your convenience which may reward me in the event of a sale. Note that I only recommend tools and products I have personally used and loved.
Organized Spice Drawer Supply List
– Spices
Step 1: Gather Supplies
First I went through all of our current spices and took inventory of any duplicates and purged all that had expired. I counted the number of spice jars needed, then measured my drawer to make sure they would fit. Before ordering, I double checked the height of the jars to make sure the drawer would close. I ordered this set of glass jars that comes with a variety of plastic tops (large holes, small holes, and one for measuring spoons), and plain black tops.
Next, I washed and dried all the glass jars, tops and plastic inserts. I lined up the stations to get ready for the spice transfer and labeling.
Organized Spice Drawer Step 2: Create Labels
Once you know exactly which spices you plan to transfer, it's time to make labels. Since the spices will be stored upright, I wanted the labels to be on top for easy identification.
I used plain white sticker paper and a large round hole punch to easily create labels myself. You can shop the sticker paper and hole punch I used here.
I used a black pen to write the spice names on the labels. I wanted to keep this project simple and affordable!
Step 3: Transfer the Spices
Finally, it's time to transfer the spices into their new jars.
I was able to fit 3 rows of spices lined up and filling the whole drawer! The efficiency makes me so happy. And the labels on top make them easy to identify and all look uniform. Such a simple project, but with a big impact! Let me know if you have any questions.
Enjoy the process,