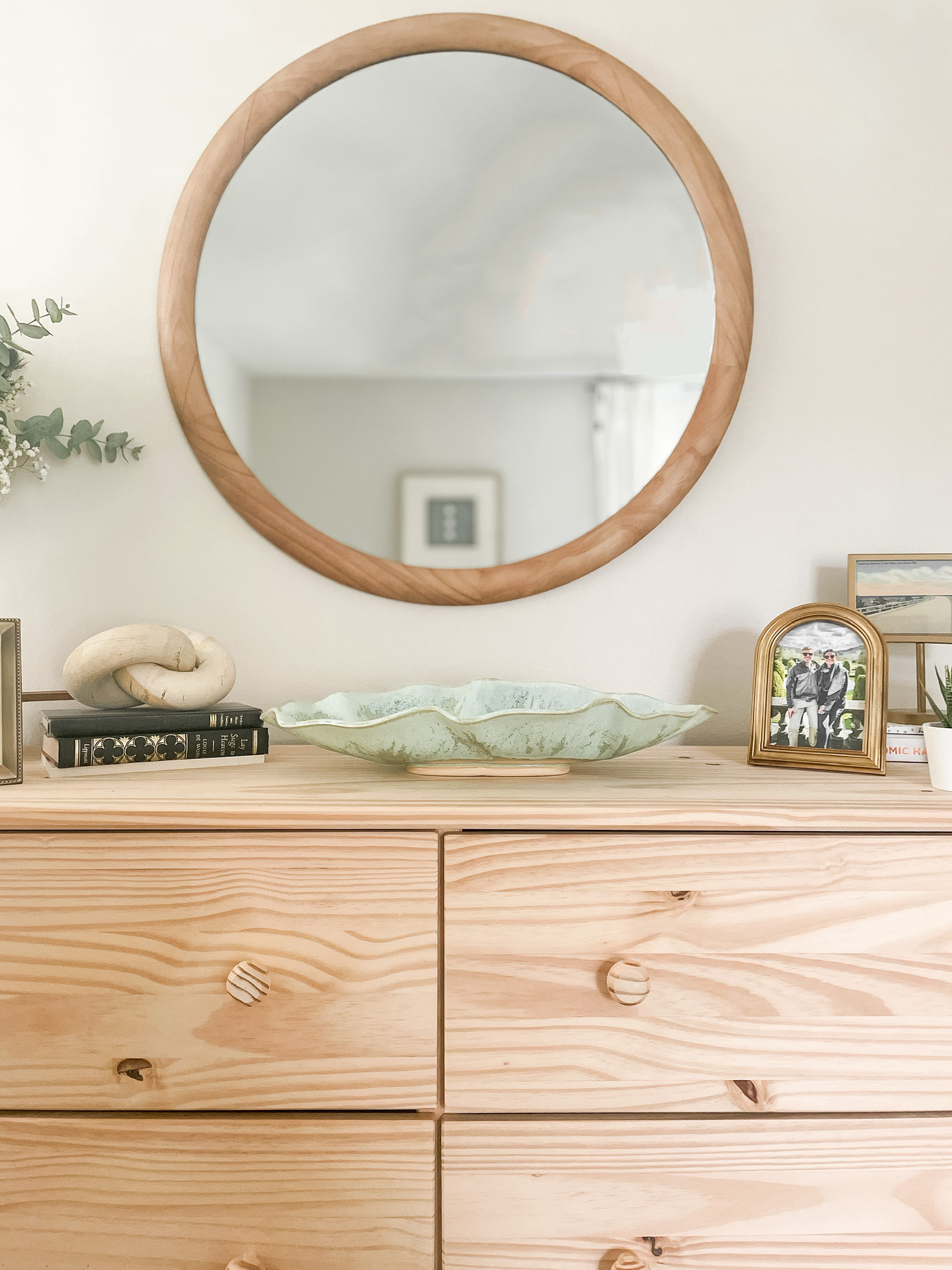 Have you ever had a big beautiful dresser in your home and wondered what in the world to put on top of it? This is a design dilemma I have pondered before too! Below, I've outlined 7 elements you need to achieve a balanced design when you style a dresser.
As part of my design dilemma series, I have shared:
– 12 ways to decorate living room shelves
– 7 ideas to help you decorate above your kitchen sink
– 13 ways to decorate above your bed
– 9 ways to decorate above your toilet
This got me thinking- what other tricky household spaces do you have that need decorating? And just as I was replacing the mirror above my bedroom dresser, my gears started turning. Is there a formula that can help you create a perfectly styled dresser?
I turned to my Instagram & Pinterest communities to see how everyone has decorated their dressers whether it's in a bedroom, living room, or entryway to gather inspiration. Stay with me as I share 7 elements you need to achieve a balanced design when you style a dresser.
Don't have time to read the whole post now? Pin it here to safely save it for later!
This post may contain affiliate links for your convenience which might reward me in the event of a sale. Note that I only recommend products I have personally used and loved.
#1: Focal Point
This is where you should start when thinking about how to style a dresser. You need a focal point to draw the eye up, and anchor your space. My favorite way to do this is with a large mirror. 
Mirrors are historically a great way to make a space feel larger. They are possibly the second best option behind a window to visually add square footage. They reflect light and will open up your room. Mirrors are a great idea, especially if you have a smaller room with limited natural light.
If my dresser is rectangular, square or has 90* angles, I prefer a round mirror to offset the boxiness. This mix of shapes is visually appealing. See what I mean?
The dresser above ended up in our nursery. I found three ways to update this vintage piece without using paint, and love the final product.
In addition to a large mirror, you could also anchor your space with large art. The possibilities here are truly endless. I printed large scale art for a very affordable price in our dining room, and would go this route again to style a dresser.
My personal favorite source for art is Collection Prints. You can buy the downloadable image and print it yourself at a big box store, a local print shop, or buy the print matted and framed already. They have a great selection that changes seasonally, and is such an affordable option for both on trend and classic prints. Check it out here. They are offering a 50% off sale right now.
#2: Lighting
Lighting can come in the form of lamps or candles/candlesticks. If you're dresser is large enough, a standard lamp or two can work great. Mini lamps are also fun accessories. Even if you don't have access to a plug, you can use the puck light hack to bring light and warmth to the space.
I've linked some of my favorite little lamps for you to shop- they are so affordable! There's no excuse not to add a homey glow to your dresser top.
You can also add candles for lighting. Depending on your style, you can find pretty glass candlesticks, antique brass, and larger wooden ones. For antique brass, I have had great luck cleaning them up with a rag and some BarKeepers Friend. You could always spray paint wooden ones to match your style, or sand them down for a natural raw wood look. 
#3: Decor
We all have those family heirlooms, souvenirs, or decorative thrifted finds laying around just waiting to be dusted and displayed. Your dresser top can be a perfect place to show them off. Trinkets can add personality and tell a story. Just be sure to keep sizing in mind- too many small items and your surface can end up looking junky. Too many big items, and it may appear that all your objects are fighting for the spotlight.
I was once given advice that something interactive is a great touch to styling a coffee table. I think the same could be said for a dresser top. Think a wooden tic-tac-toe board, chess board, hourglass timer… the sky is the limit.
My personal favorite types of decor include something personal, something that adds height, an object of interest, or even a favorite piece of pottery.
#4: Art
Even if you chose large scale art as your focal point, you can still layer in smaller pieces of art on your dresser top to add dimension, depth and interest.
Don't have the budget to spend money on art at the moment? No problem! Try your hand at DIY textured art following an easy step by step tutorial, or DIY Intaglio art on a budget! Layering art can add a lot when you are styling a dresser.
Family photographs count as art too! They can add personality and life to your space, which is something I've tried to incorporate as I have decorated our Riverdale Ranch. I urge you to do what makes YOU happy, not your guests or the internet (no matter how tempting). Your goal should be creating a space that brings you joy. Every time I walk past photos from our engagement, wedding, and travels it makes me smile and that's what our homes should be about! 
#5. Books
I love stacking books to add height and color when styling a dresser. One of my favorite things to thrift are books when I'm browsing antique shops or Estate sales! Here's a list of 10 things I always buy when thrifting if you're curious.
Never shopped an estate sale? Or wondering how to find them? I spill all my shopping tips and tricks here to help you score amazing secondhand finds.
Antique or vintage books can be found very inexpensively! I like books with gold details on the spine, or covers that pull in colors I've used in other places around the room. Another idea is to flip some books around so that the neutral pages show to add color variety and texture.
Still need convincing that you should be shopping secondhand? I outline 5 reasons to thrift home decor here to fight the fast furniture trend. Your home, pocketbook, and the planet will thank you.
Source: Blushing Boho Design
#6: A Chain, Link or Beads
These decor pieces have definitely had their moment trending lately. Carved wooden chains, links or beads can be a great addition to your dresser. They add movement and natural elements to your design!
Source: Halfway Wholistic
#7: Foliage
I was once told that the color every room needs is black, and I think the same could be said for a pop of green. Whether floral, faux or real, adding greenery or foliage can breathe life into any space.
And remember, there is no shame in the faux game. Know your limits. If you are busy and don't need another thing to do or take care of, get a realistic looking faux plant and call it a day.
I have covered 7 elements to help you style a dresser brilliantly. A few other tips to help pull together an effortlessly cohesive look include mixing textures, playing with height, featuring an item or two as the "star" of the show, and including different materials.
Enjoy the process,