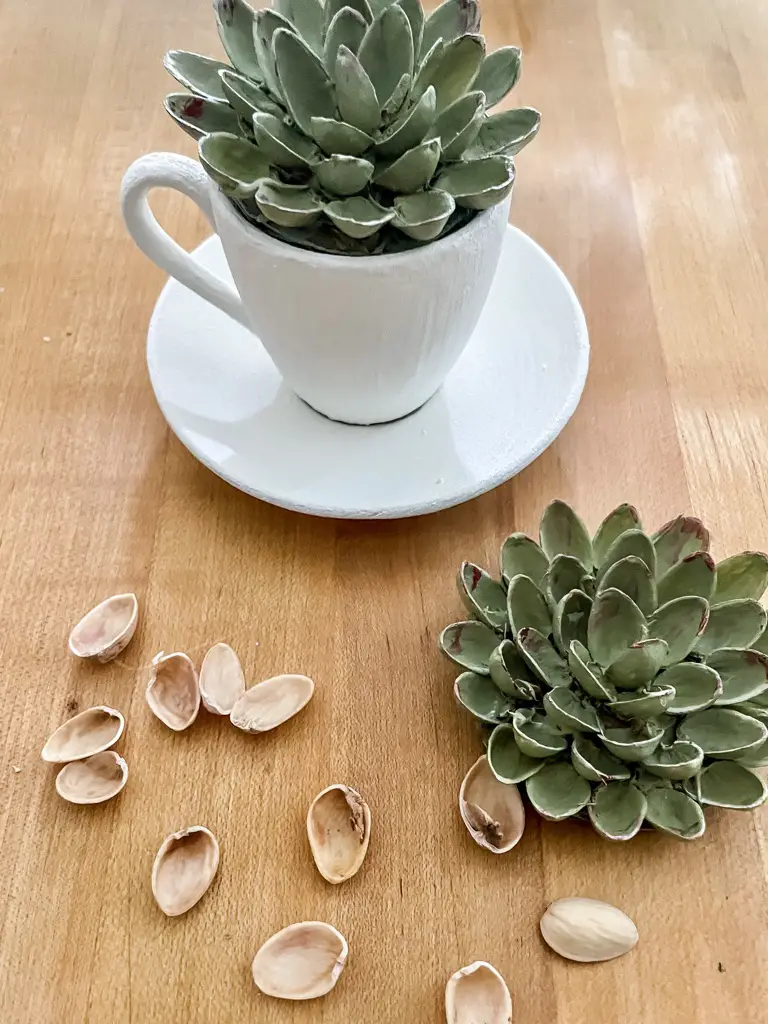 A step by step tutorial showing you how to reuse pistachio shells to create a succulent that will never die. Complete with pictures & direct supply links for your convenience!
I am always trying to find ways to reduce, reuse and recycle. The other day while I was eating pistachios, I was admiring the growing pile. I was trying to think of a way to reuse them, and decided they kind of look like leaves!
I found a quick and easy way to create a DIY succulent using my pistachio shells, a little paint and hot glue gun. Keep reading to learn how to make these fun little plants that will never die!
No time to read this whole post now? Pin it here to safely save it for later.
Supply List to Reuse Pistachio Shells to Create a Succulent
-Pistachio shells
-Acrylic paint
-Craft paint brushes
-Hot Glue + Gun
-Cardboard
-Scissors
-Small pot
Step 1: Eat Pistachios and Collect Your Shells
This is self explanatory, but go buy some pistachios in the shell and enjoy! Make sure to save the shells in a baggy along the way until you have enough for your DIY succulent. I used approximately 35 shells per plant.
Step 2: Hot Glue Shells to Cardboard
Once you have all of your shells collected, gather the rest of your supplies. Find a small pot that will serve as your faux succulent's container. This could be a terracotta pot, small teacup, etc. A thrift store would be a great place to browse to find your pot! Finding a way to reuse a pot is both affordable and sustainable. Read up on 5 more reasons you should be thrifting home decor here.
I chose a small thrifted teacup (one of ten items I always keep an eye out for when shopping secondhand), snd used this foolproof technique to give it a textured white finish. Once you've selected your pot, trace the top onto a piece of cardboard. Cut the circle out to create the base you will glue your pistachio shells on to.
Using hot glue, secure your shells to the cardboard circle working your way from the outside in. Go slowly, and squeeze out enough hot glue for 2-3 shells at a time. That way, it will stay hot while you place them. Slowly work your way around creating layer after layer. Use a real succulent as your model to make it as realistic as possible!
Step 3: Paint Pistachio Shells
I used paint supplies I already had on hand, including different shades of green, yellow, gray and purple acrylic paint, craft paint brushes, and a paint tray. Mix colors to your liking to create a good shade of green. I painted an olive/army green base color on all the shells, then added a bit of lighter and darker green to some areas to make it more realistic. Finally, I painted bit of muted magenta onto the edges of the leaves for even more color variation.
Step 4: Pot and Display your Reused Pistachio Shell Succulents
Once your painted shells are dry, put the faux succulent top into your pot and display. No need to think about finding a perfect location that gets just enough sun. The wonderful part of the faux plant is there is no work necessary! I have failed many times in the past trying to keep succulents alive, so this is a great solution for me.
I am a big proponent of knowing your strengths and going "faux" with plants when needed! Faux plants are the star of the show in this vertical hanging wall planter on our patio, and a faux orchid is my favorite centerpiece in our living room.
No shame if you are lacking a green thumb like me, just find ways around it! Let me know if you have any questions, and enjoy this fun way to reuse pistachio shells.
Enjoy the process,