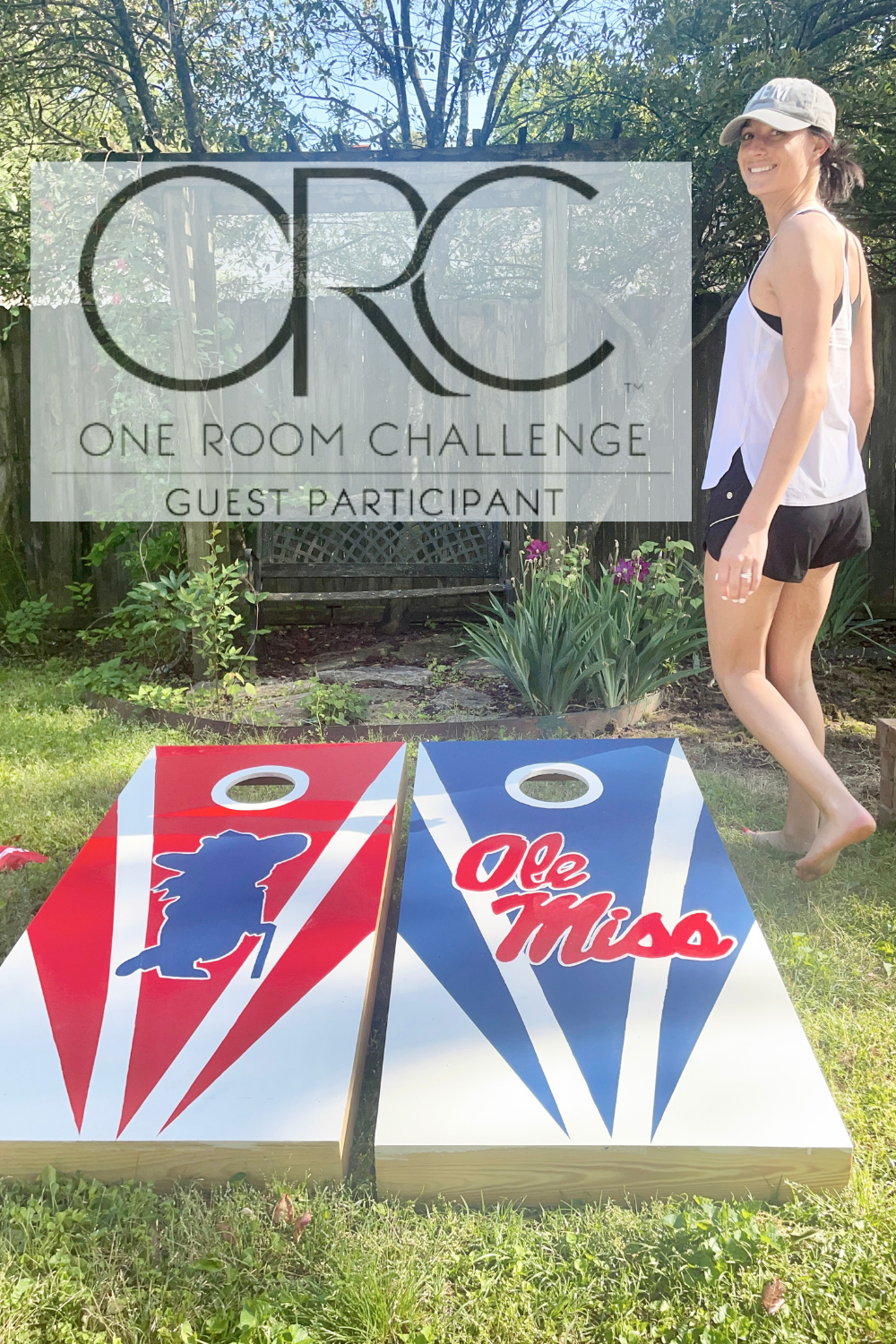 1 room. 8 weeks. Countless DIYers coming together to encourage and inspire. Sounds great, right?! Welcome to the One Room Challenge! Keep reading to discover my plans for my backyard patio One Room Challenge and how to create DIY custom cornhole boards.
I'm so excited to be participating for the first time as a guest in the 2021 Spring season of the One Room Challenge (ORC)!
Here we are, rounding out Week 2. As promised, I'm sharing my first completed project, as well as the "best case scenario/possibly over optimistic/very ambitious" project plan: 
Custom Cornhole Boards
Paint Concrete Patio Floor 
To start off this mini makeover, I completed custom cornhole boards. My in-laws bought us these cornhole boards as a Christmas present a few years back, and I thought they were the perfect blank slate to personalize. You can build your own boards, or personalize plain ones like I did. If you use blank wooden ones, you could even use Deco-Art Color Stain instead of exterior paint to retain some of the wood grain underneath. 
This post contains affiliate links for your convenience which may reward me in the event of a sale. Note that I only recommend tools and products I have personally used and loved.
SUPPLIES FOR DIY CUSTOM CORNHOLE BOARDS
Tape Measure 
Straight edge 
Pencil 
Primer
Exterior paint samples in colors of your choice- I used White Dove by Benjamin Moore (white), Flirt Alert by Behr (red), and Inked by Behr (navy)
9" paint roller frame and roller cover
4" paint roller frame and roller cover
Craft paint brushes
Exterior Top Coat- beware of yellowing!! Choose this wisely, I do not recommend the one I used
STEP 1: Prime and Paint White 
To cover up the old logo, I rolled one coat of primer on the boards with a 9″ paint roller and let it dry for 24 hours.  
Next, I painted them white using the same 9" paint roller.  I used exterior paint samples on the boards after failing with acrylic craft paint. The acrylic paint went on streaky, and did not provide good opaque coverage like the exterior paint did.
STEP 2: Tape and Paint Background
After the white paint dried for 24 hours, I taped out the linear pattern I wanted as the base of the boards. My husband and I both graduated from Ole Miss, so I knew we wanted to have Ole Miss themed cornhole boards. I painted one board's background red using a 4" paint roller, and the other navy blue.  
Fun fact: my husband was going to the hardware store that day, and I begged him to pick up paint samples so I wouldn't have to make a separate trip. I gave him creative reign to choose the colors since he has been an Ole Miss fan since birth (he is from Oxford, MS). He was nervous to play such an intricate part in this project (I am definitely the creative mind between the two of us), but he did great! He chose Flirt Alert by Behr (red), and Inked by Behr (navy). 
As we learned in my Paint 101 post, paint samples are the cheapest from big box stores like Lowe's and Home Depot because you can get the small paint pots and don't have to purchase the full quart. I would recommend these smaller samples for this project as you will not use a lot of paint, they usually run $3-4. 
After the paint has dried for a few minutes, remove the frog tape by gently pulling at an angle to reveal your crisp lines. It's so rewarding creating anything DIY, especially these custom cornhole boards.
STEP 3: Create a Stencil 
Next, I chose my designs and figured out a way to transfer them to the boards. I thought about free-handing it, but honestly didn't have time and wanted them to look neat and clean.
I found images I wanted to use, and measured how large I wanted the designs to be. I went to FedEx Office to get the images blown up and printed. One image was 2 ft x 1 ft, the other 1.5 ft x 1.5 ft. You could use any print shop for this, FedEx Office is just the closest for me. I ordered the prints in black and white on the cheapest paper they had. The total was $13 and some change.
Once I had the images, I cut around the border so I could use them as stencils to trace onto the cornhole boards. I chose the scripted Ole Miss logo for one and the Colonel Reb mascot for the other. Another option to create your logos or designs would be to use a Cricut machine. I don't have one of these, so I improvised.
Once cut out, I taped the designs to my boards and used a pencil to trace around the border.
STEP 4: Paint your DIY Custom Cornhole Boards
Time to paint your designs! I used smaller craft paint brushes and the same exterior paint to fill in the designs I had traced onto my boards. Remember to start painting top to bottom, and left to right if you are right handed to avoid having to reach through wet paint on areas you've already painted.
STEP 5: Exterior top coat 
Once the cornhole boards were painted and had 24 hours to dry, I applied two coats of sealer to protect my DIY custom cornhole boards from the sun and elements. *Disclaimer: the Minwax Water Based Helmsman Spar Urethane I applied turned the white paint yellow over time. I am so disappointed, and should have thought about that before I chose a top coat. They have a more "vintage" vibe now, but no that I would not recommend this top coat! I would probably ask the associate at a paint store what they would recommend to keep your white paint pure.
STEP 6: ENJOY your DIY Custom Cornhole Boards
I hope you'll consider customizing your own cornhole boards. You can paint your favorite professional or college sports team, state flag, or anything else you can think up. Get creative!
Be sure to pin this project so you can find it when you are ready to make your own. Want to know where these are going? See my Week 1 post here for the backyard patio makeover before photos.  Check out all the other guest participant's projects too!. I'm sure you'll find at least a few you'll want to follow this season.