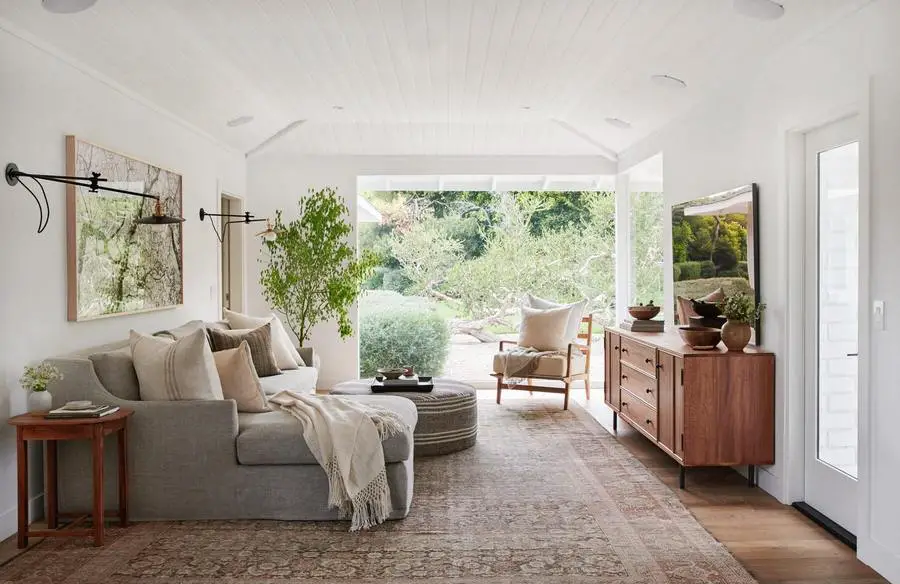 Photo Credit: Amber Interiors
I don't need to point out what kind of year 2020 was, or make some comment on how we are all just making it through. But I do think that because of the kind of year 2020 was, it shaped some of the interior design trends we are seeing in 2021. 
Below I've outlined the top 10 interior design trends for 2021 to keep you informed and inspired, or know what to avoid for those of you who despise trends and walk to the beat of your own drum (I see you, trend setters!). I wish I was that creative but I need something to look at to say "I like that", then re-create it.
Interior Design Trend #1: Minimalism
Less is more. Influenced by Scandinavian style, minimalism focuses on simplicity. For art, think simplistic line art or contoured silhouette drawings. Another key is to clear the clutter. Focus on mindfully curated accents and statements.
I think of Marie Kondo and The Home Edit on Netflix, which has sparked a movement toward simple, intentional spaces. Today you can actually hire companies such as 2B Organized (franchises located in TX, NE, MO and CA) and Natural Home Organization (if you are NW Arkansas area) to assist with organization and creating pretty, practical spaces.
This minimalist bedroom by The Brain and the Brawn exudes the minimalist perspective. I love how eliminating the clutter leads to a clean and simple look- perfect for getting a good nights sleep without any distractions.
#2: Vintage
In stark contrast to the minimalist style trend outlined above, vintage influenced spaces embody the "granny chic" style. This term conjures up a pretty clear visual for me- think feminine, florals, antiques, repurposed, salvaged, retro, and nostalgic touches. This trend is loud, individual and eclectic. It's a new take on a traditional aesthetic.  I've also seen the term "grand-millinial" used, coined by House Beautiful back in fall 2019. This interior design trend is on the rise in 2021.
Also falling in the vintage category is Turkish rugs. I love these beauties and the way their texture, color and patterns can brighten any room. Learn more about vintage Turkish rugs here, and download the full guide here to learn where to shop.
Photo Credit: Chris Loves Julia & Holt Interiors
Interior Design Trend #3: Two tone kitchens
By now I'm sure you've seen the change up of color on upper and lower kitchen cabinets. This look is also known as a "tuxedo" kitchen, and according to Zillow can add significant re-sale value to your home! Most commonly you will see the lighter shade on top (usually a version of white), and the darker color on bottom. I have seen darker paint such as green, blue, or gray, OR retention of natural, raw wood cabinetry on the bottom paired with natural wood shelving throughout the light painted uppers. I've got to say, I love this one.
Photo Credit: @lsldesignco & Chris Loves Julia
#4: Dark and Moody
Let's be honest, after 2020 we are all feeling a little dark and moody so we might as well embrace it with an interior design trend in 2021. Most often the trend includes a dark wall color, sometimes including the trim, doors and ceiling too. Inspiration colors seen most often are navy blues (I can recommend Hale Navy by Benjamin Moore) and browns (after all, the Sherwin Williams color of the year is Urbane Bronze– pictured below).
Photo Credit:  Amber Interiors & Bless'er House
Interior Design Trend #5: Organic, natural materials
Think cork, rattan, reed, cane and wicker. These textures add a layer of dimension and character to your space, not to mention are fun to hunt for secondhand! (Need help finding an eye for thrift? Read more here). I've seen these materials as accent pieces, on furniture (chairs, sideboards, end tables), and as wall decor. Reeded cabinets have been a hot topic; I don't know if I would invest in new cabinetry that is reeded, but I am definitely interested in trying to DIY what I've already got! 
Photo credit: Pure Salt Interiors & Pennies for a Fortune
#6: Natural Wood
Natural wood is front and center, earning its spot as an interior design trend in 2021. You can find natural wood in details around the house including reclaimed wood and pieces with a unique grain and texture. However, this is not your grandma's wood! No orange tones. The Pottery Barn and Restoration Hardware finishes have remained popular. I have outlined a step by step technique here to create a weathered wood finish (without sanding or staining!)
Need more convincing? Learn 5 reasons not to paint your wooden cabinets here.
Interior Design Trend #7: Neutrals
Lots of people are calling for out with the gray, and in with…. you won't believe it, but beige. If you can't go back to beige that fast, the "Greige" color trend is still in. I painted Agreeable Gray in half of my house and can attest, there's something great about this neutral mix of warm and cool on the walls that allows for free creative reign when decorating the rest of the space.
#8: Florals
Dried flowers are in. Pampas grass is in. I wish I could go home and pick some out of my childhood front yard and dry it- see tutorial here. I love how interior design trends in 2021 are moving in a more sustainable direction. If you see inspiration somewhere, always think "how could I make that?" instead of "where can I buy that?". It's fun to forage for greenery and florals, and is a much cheaper alternative to help decor evolve with the seasons naturally!
Interior Design Trend #9: Textured walls
Accent walls with added texture are finding their way into homes across the country! This includes wood beams and wood panels including board and batten, bead board, fluted panels and wainscoting.
Photo Credit: Campbell Home & @styleitprettyhome
This is a fun trend because its easy to achieve! Accent walls can also feature wallpaper, brush stroke pattern, or sponge art to create a statement.
Photo Credit: Studio McGee & Wild Rose Country Home
And last but not least…
#10: The rise of DIY!
Unpredictable job markets, work from home, tighter budgets, low interest rates (think more first time home buyers!) all of these circumstances have led to an increase in homeowners to want to do it themselves! The great thing about every one of these 2021 interior design trends on this list is that they are achievable to DIY. I hope I can serve to inspire you to create change, find your style, and learn to want what you already have. 
See my most popular tutorials here on how to:
–paint your doors black
-create a gallery wall the easy way
-create a wood look front door
So which are you, Timeless or Trendy?
I've been asked the question "What should I do if I followed trends, spent a lot of money and now see the trends shifting?" My advice is variable to your financial situation, but overall I'd say don't get caught up in trends and must haves. Set a budget, and stay within that budget at all costs. If that means choosing to DIY a dupe to look like your favorite trend, go for it! If that means splurging on that one mirror you are seeing everywhere and can't get out of your mind (guilty! Loving that Anthropologie mirror), buy it! Just know you may have to  cut back in other areas.
Keep the big picture in mind with a predetermined, outlined budget to keep you on track. Lets say next year everyone is talking about how that trend you spent so much money to attain is "out" (*farmhouse* cough cough). If you overspent and decided you had to have the designer version of anything that was popular, you will more than likely be devastated (unless you still love it all, in that case good for you!). However, if you figured out how to DIY and dupe it yourself then the style fades and you decide to want to try something new, you won't feel bad about updating the space because you didn't spend all your hard earned money on it! It's all about balance and big picture. Keep those two things in mind and you'll come out on top.
My advice
So which do you prefer? Following the trends, or trying to remain timeless? I look at it this way- for my wedding, I went timeless. You only get to do it once after all, and never get a chance to update! Those pictures are set in stone forever. However, home decor is fluid. You can change the interiors of your home as many times as you like!
Think about decorating your home like you shop for clothes. You invest in timeless, classic pieces you hope to keep for a long time (think denim, handbags, etc.) However, it's fun to buy cheaper accessories that are on trend! And when it fades in a year or two, it may be worn out anyway because it wasn't an investment piece that you spent a lot of money on.
So maybe like all things, trends are best in moderation. If you are going to invest in something (or pay a contractor to remodel), I say do your best to choose something classic and timeless that will retain re-sale value. But if you go the DIY route, have fun with that new trend you've been seeing everywhere! If it doesn't hold up, or you don't like it in a few years, no hard feelings about updating it. 
As always, I hope to inform and empower you.