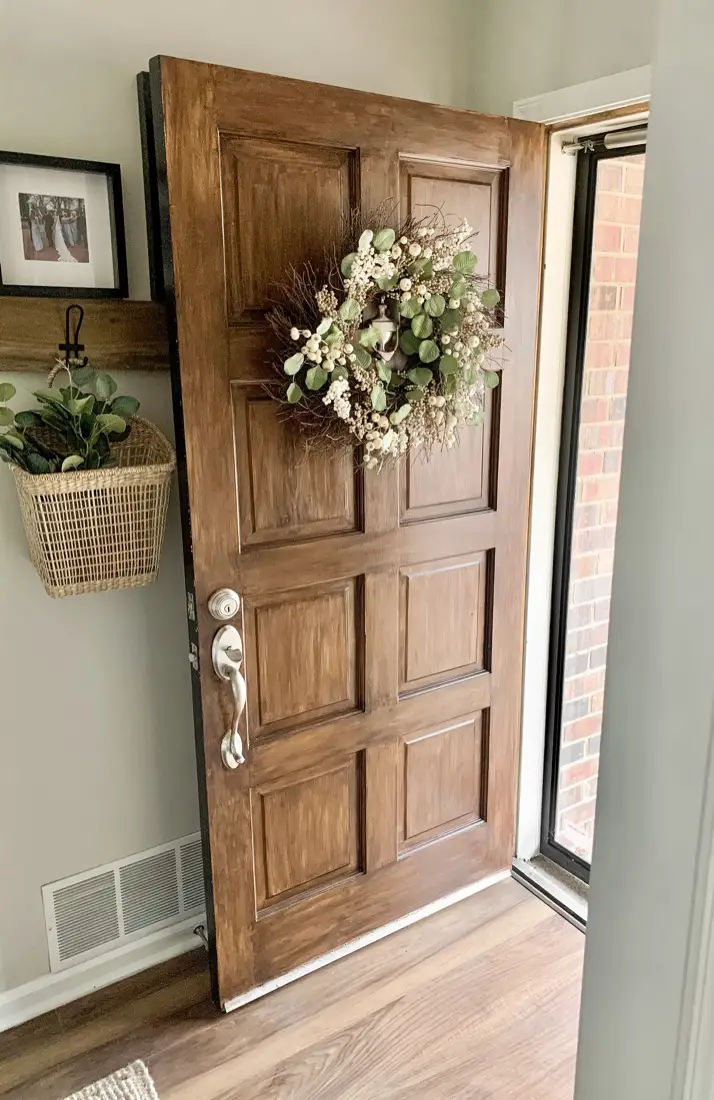 Inspired by Lovely Crafted Home 
Do you currently have a painted front door you don't love, but are lacking the budget for a new wooden door (they can cost thousands!) Look no further and let me show you how to get the look you want for less!
This is one of the first DIY projects I tackled. Do you know that feeling when there is so much to do, you don't know where to start? Unfortunately that was me the first weekend in our new house. My husband left to golf (sound familiar? just me? ok) and I had a list a mile long twirling around in my head. Let me give you some advice- do a brain dump, organize it into a list, give yourself reasonable deadlines, make a supply list based on each project, and go for it!
Here is the listing picture of the outside of our newly purchased Riverdale ranch…. I didn't know where to start. A lot of posts I read highlighted the importance of the front door. It makes a statement, and you want it to feel like "you". I didn't love the look of a painted door and didn't know what other color I would choose, so I started to look into faux wood techniques. I found this gel stain makeover Erica from Designing Vibes did here and loved the look. She pulled her inspiration from Rachael of Lovely Crafted Home. It's a three step process – paint, gel stain, seal- that took me about a week and a half to complete due to drying time. Here's what you need:
SUPPLIES
-Clean rag
-Drop cloth and/or wet rag for inevitable paint spills
–Purdy Paint Brush and/or paint roller to paint door
-One quart of exterior flat paint in the color "Glazed Pecan" by Behr- you can get it color matched at any paint store (Lowe's, Home Depot, Sherwin Williams, etc.)
-One quart of Minwax oil based gel stain in Walnut
–Chip brushes to apply gel stain
–Foam brush to apply sealer
-One quart of sealer- I used Minwax Water Based Helmsman Spar Urethane in a satin finish.
STEP 1- Clean your front door
Using a damp rag, wipe off the dirt and grime that comes with time from your front door. We have a glass storm door that protects our front door so ours was not outwardly dirty, but still an important step.
STEP 2: Prep for paint
Tape around any hardware on the front door you do not wish to or cannot remove. I wasn't able to remove the metal knocker. It had been painted around before and was really stuck on there, so I taped around it and the door handle. Here you can also prepare with a drop cloth if you prefer, or just get a wet rag for quick clean up on any splatter as you work.
STEP 3: Paint
Paint your front door Glazed Pecan. This is where trust comes in. This method is tried and true (look back at the finished product and have some faith). I was worried my new neighbors were going to think I was crazy with a front door this color orange, but figured it might be a good ice breaker? Luckily it only stayed orange for a day until I applied the gel stain. Any time I paint doors I start painting the inside panels with a paint brush first, then roll the flat surfaces with a small paint roller. If you need more information on how to paint doors look here!
STEP 4: Gel stain
Apply the gel stain once the paint is dry (I let mine dry over night just to be safe). I played around with different brushes for application and techniques on an old door we removed from our dining room to practice. You could use scrap wood or any other wooden material you have on hand. I ended up preferring a chip brush- I felt I was able to get a more natural "wood grain" look than with a foam or paint brush. But remember, it's your project! Try a few different tools and see what you like. I even tried out this faux finish paint graining tool It was neat but tedious, and I wasn't sure how I would get it into the smaller grooves inside the door panels.
STEP 5: Second coat
Allow gel stain to dry (I waited overnight), then apply a second coat if needed. Again, use your judgement and go for the look you like! I did a light second coat in some areas, and darker in others.
STEP 6: Seal
Once the gel stain is dried and cured (I waited a week) apply your sealing coat to protect your door from the sun and elements. I applied the Minwax Water Based Helmsman Spar Urethane with a foam brush. Two coats is preferred, waiting overnight to ensure proper drying.
STEP 7: Enjoy
Sit back and ENJOY THE FRONT DOOR YOU'VE CREATED! There is no feeling more satisfying. I enjoyed this look so much I ended up applying the same paint and gel stain technique to the posts in the front of my house, a neat front porch bench I bought second hand, and to create new, modern DIY house numbers (see tutorial here!).
Before
After