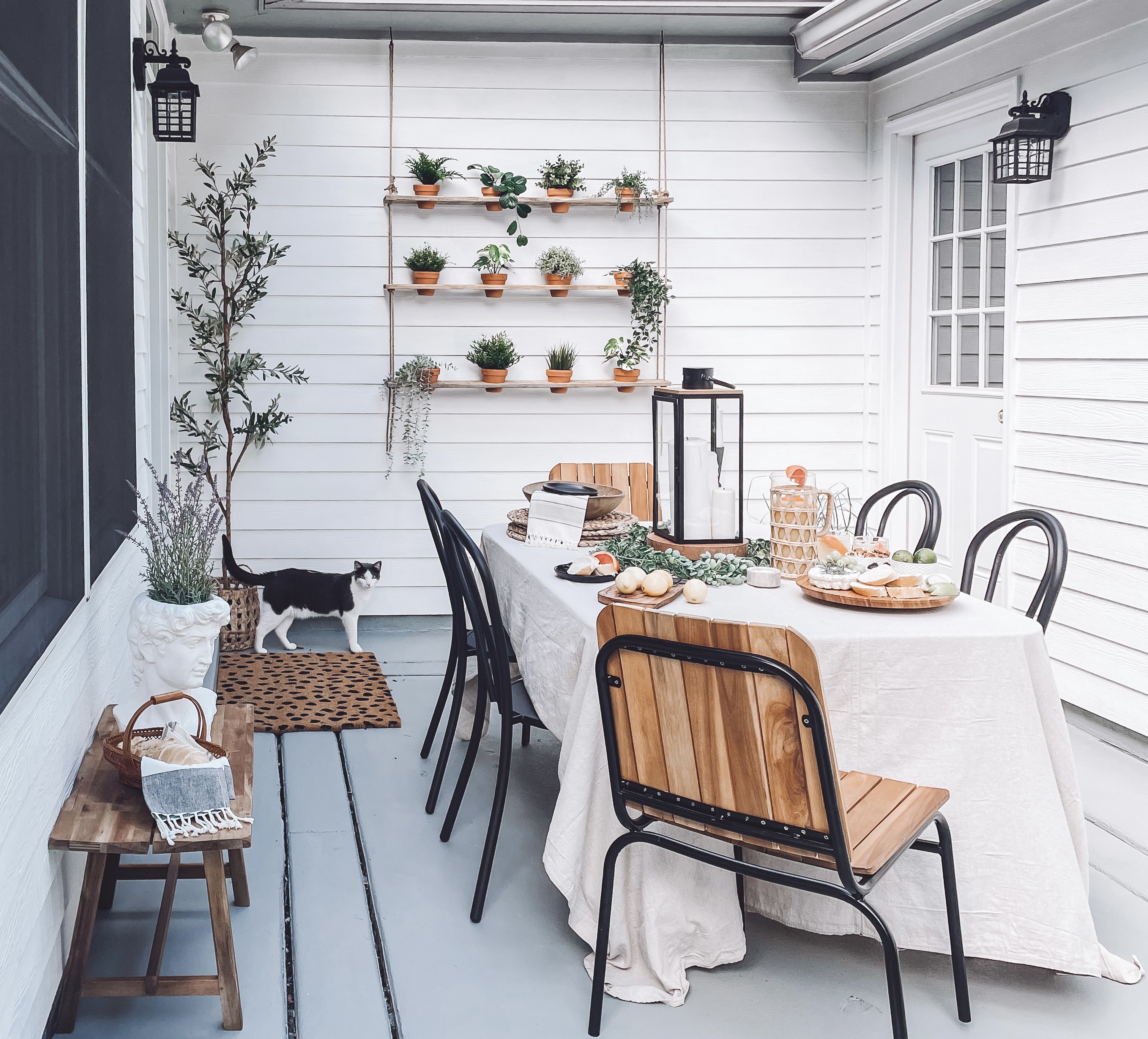 Does your patio space need a little love? I'm sharing 7 creative DIY patio decorating ideas to show you that you don't need a huge budget to make your space look great.
I decided to participate in the Spring 2021 One Room Challenge (ORC) last year! The One Room Challenge is a semi-annual event hosted by Linda from Calling it Home and Better Homes & Gardens. 20 featured designers and countless guest participants transform a space in 8 weeks, and document their project on their blog and/or Instagram accounts.
Since I decided to participate last minute, I spent Week 1 was deciding which "room" to makeover. I finally thought outside the box and chose our outdoor patio spaces. The only thing I had done to our backyard since we moved in was plant gardens in all of our raised beds, and documented that process for any other gardening beginners out there.
Otherwise, our backyard was a blank slate with so much potential. I learned and created a lot during those 8 weeks, and wanted to share a round up of 7 DIY patio decorating ideas to help spark some creativity for your backyard this spring.
Patio Decorating Idea #1: DIY Cafe Patio Lights
Cafe lights add such a nice ambience to outdoor space. But how do you hang them when you only have one or two exterior roof lines to attach them to?
I DIY'ed the perfect 2×8 post attached to a whiskey barrel planter to create a four points of contact to hang the lights from. With the post, I was able to line the perimeter of my patio with perfectly charming string lights. I used my favorite paint + stain combo to help the wooden post match the existing front door and porch posts to keep a cohesive wood look. You can find the technique detailed here.
I was also very particular about wanting to find an authentic whiskey barrel planter. I certainly did not invent the wheel with this project, but I wrote a detailed step by step tutorial if you want to know how I did mine.
Patio Decorating Idea #2: DIY Hanging Wall Planter
Need a quick project with a big impact, low budget and good enough for Better Homes & Gardens?? Then look no further! This hanging wall planter is sure to spruce up your space.
I have this personality trait where I collect things I know will be useful someday… then have a hard time convincing my husband why I have and need to keep all these things. But I know some of you are on my team and see the value, especially in FREE wood! My husband joined my side a bit more when I found a way to store the pallet wood so that it was out of sight during our major garage remodel, but that's a story for another day.
I had a few ideas in mind to use the pallet wood that had been collecting dust in my garage and this was the first. I ended up with a living wall, building a "swing set" for my plants!
Accent walls are very in right now (along with these 9 other things), so why not carry this interior trend outside? My hanging wall planter is the perfect touch to bring life, color and texture in an organized way. It's the perfect weekend project. Find the step by step tutorial here (including measurements- that's always the biggest headache for me). 
DIY Patio Decorating Idea #3: Affordable Decor
Ok, I promised affordable decor solutions so here are some of the exact outdoor decor items I found and have used for a year! They are all reasonably priced, and have held up with regular use at our Riverdale Ranch.
Adirondack chairs
I found these chairs at such an affordable price compared to competitors (yes, they are under $100 each!). They do come with assembly required, and have a weight limit lower than some bulkier chairs. But for the price, you can't beat them! And the color goes great with the faux wood look post I painted and stained that holds up the string lights.
Outdoor Acrylic Glassware
I love Juliska glassware, but I am known to be clumsy and bringing it outside just doesn't seem like a good idea. I found these awesome acrylic pieces that are perfect for outdoor entertaining. Shatterproof and dishwasher friendly, they are a must.
Dropcloth Table Cloth
So much simple creativity with this one. I wanted to cover the brown glass tabletop since it no longer went with the rest of my updated patio space, but was having trouble finding something neutral with texture. Until I stumbled across this drop cloth in the paining aisle at the hardware store. Light bulb moment! It works perfectly, is just the right size and holds up well to the elements.
Affordable Faux Greenery & Florals
Maybe you have a green thumb and prefer everything outside to be living. But with all my gardens and a few larger potted plants, I had reached my limit for living things that needed to be tended to. I decorated the remaining space with faux greenery and florals and I'll let you in on a secret… no one can tell. I get compliments on my faux plants often and I just have to laugh. Ikea is my go to source for faux, but I've linked a few here that are more readily accessible online.
Fire Pit
Last but not least, we received this fire pit as a gift from our wedding registry and have loved it since. I can't imagine a backyard without one. It serves as a great focal point, and is always a good excuse to get outside and enjoy a fire year round. And yes, this recommendation is also under $100.
DIY Patio Decorating Idea #4: Pallet Wood Projects
I found a couple of wooden crates I thought would be the perfect size for a decorative outdoor storage solution. When I took them to the checkout counter for a price check, they were $17 a piece. No thank you!  
Of course, my DIY wheels started turning and I decided to use the pallet wood I already had to build my own… for free! I think mine turned out even better than the big box store option. I love the mismatched, reclaimed weathered wood look compared to the clean, light and symmetrical wood used for the crates available for purchase. Mine have more character. From beginning to end, this project can be completed in as little as a day, or definitely a weekend! Find the tutorial here.
DIY Patio Decorating Idea #5: Update the Paint Color of your Exterior
This is a project I've been waiting to complete since we closed on our house a year ago… painting the exterior. To me, the blue/gray color of the siding never went with the red/brown brick. The One Room Challenge was a great excuse to finally bite the bullet, read up on how to paint exterior siding and execute this project. Besides time, this is honestly inexpensive. Only paying the price of paint and supplies is much more affordable than the thousands I would have paid if I hired someone else to do it.
I chose the color Alabaster by Sherwin Williams. I love the bright, clean look of our exterior siding now. It makes such a difference looking out from the sunroom (where we spend lots of time). Find all my tips and tricks for painting exterior walls yourself here.
DIY Patio Decorating Idea #6: DIY Checkerboard Tabletop
Easily and affordably add functional entertainment to your patio with this DIY checkerboard tabletop. It's is such a fun addition, and bonus- the tabletop is reversible. You can checkerboard one side and paint, stain or leave the other side natural. Get creative! The sky's the limit. See the step by step tutorial to learn how to DIY this checkerboard tabletop in an evening.
Patio Decorating Idea #7: DIY Custom Corn Hole Boards
I had these corn hole boards sitting in the garage, who knew it just took a commitment like the One Room Challenge to get me motivated enough to plan and paint them? I chose my husband and I's alma mater and favorite college team, the University of Mississippi also referred to as "Ole Miss". 
Similar to the checkerboard tabletop and fire pit, I love having outdoor entertainment options. This DIY is something to be proud of. You can make them for yourself, or gift them to someone else! I think they would make a great engagement or wedding gift, especially if it's a house divided with 2 different sports fans. Find the step by step tutorial for DIY custom cornhole boards here.
I finally feel like our outdoor space matches the aesthetic and feel of our interior, and for that I am grateful. These 7 DIY patio decorating ideas will give you an excuse to get outside too. Be sure to pin this post so you can save it to reference when you're ready to spruce up your space for spring!