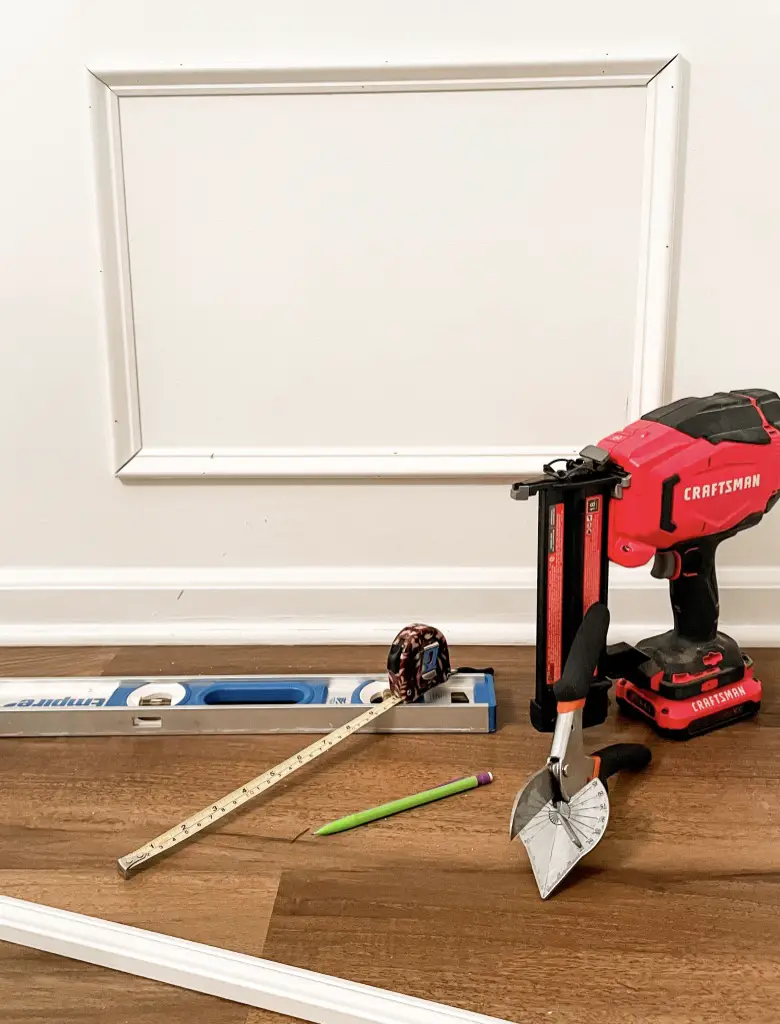 It's your first house. You move in and you are lucky to have a hammer to hang wall art. Or maybe all of a sudden you're spending more time at home, and you want to pick up a new hobby while making your house more "you" along the way. But where to start? When you're at the bottom, let me help you find your way up to owning a few basic tools from which you can DIY plenty of beginner friendly projects. Below, I'll outline my 5 beginner tools for DIY recommendations to make you more comfortable investing in your first power tools!

What does starting from the bottom look like? For me, it was owning a hammer, measuring tape and screwdriver with black and white floral handles that came in a 3 piece kit I've had since I moved into my first college dorm 🙂 That's it. After closing on our first house, I had so many ideas on how to put my touch on each and every room. But time after time, the tutorials I found included power tools I did not own. I'll walk you through my journey of slowly growing my tool set, and the projects you can do with each one. 
Don't have time to read the whole post now? Pin it here to safely save it for later 🙂
This post contains affiliate links for your convenience which may reward me in the event of a sale. Note that I only recommend tools and products I have personally used and loved.
My 5 Favorite Beginner Tools for DIY

1. Mouse sander
My very first power tool was a mouse sander. I read and re-read the directions, nervous to make a mistake my first time using a tool that runs on electricity. This is a great first tool if you are a beginner like me. The risk/benefit analysis is heavily swayed toward the benefit side, with just a few risks. A mouse sander also won't break the bank.

So, what can you do with a mouse sander? Initially I bought mine to refinish furniture. I knew I couldn't furnish our first house with brand new furniture that fit my taste, so second hand it was. I refinished our dining room table and chairs last year and the mouse sander was the star of the show in these projects. The mouse sander also got use during these projects: 

2. Miter saw
Ok, this one may be cheating. I don't technically "own" it. But my father-in-law has been kind enough to let me use his for the past year. The very first project my husband taught me to use the miter saw with was to cut the border to create my modern DIY house number sign. 

P.S. Does it bother anyone else that your boyfriend/husband got to take Wood Shop in high school and has a better working knowledge of all these tools? Meanwhile I took Home Ec, Clothing, and Child Development. Maybe someday our daughters will be more well rounded and follow their passions as early as high school.

A miter saw can definitely be intimidating, and for good reason. This can be a dangerous tool, and should be treated with respect. My husband taught me the basics, always minding hand placement, speed, and safety including eye protection. Often, you can substitute tools that mimic a miter saw, but you will sacrifice efficiency and accuracy. I used our borrowed miter saw during this DIY Entryway Wall Hooks project as well. A miter saw makes it so much easier to make straight cuts quickly. This project was truly a breeze because of it!.
3. Drill
So this was a tool we had borrowed from my father in law as well, until my husband got his own for Christmas. A drill is so versatile, and a must if you want to complete your projects more efficiently. Similar to the miter saw, you can substitute tools that mimic a drill (obviously just a screwdriver), but it will take more time. Sometimes though, a drill is a necessity.
I used the drill during this whiskey planter string light post DIY project, and love the finished product.
4. Jig Saw
This is a tool I purchased without a specific project in mind, I just felt like it would be a good one to add to my collection. And I was correct! Sometimes, cuts are required that don't make sense for a miter saw. In these instances, a jigsaw is better. As with the other power tools, reading the instructions and learning how to use it carefully is a given. 

My jig saw has been the star of the show in multiple projects. I could not have created this DIY vertical wall hanging planter project without it (I used it to cut out 15 holes for the planters to fit into). Having a jig saw also came in handy when building my DIY bar cabinet from scratch.
One more beginner tool for DIY…

5. Brad Nailer
Ah, my most recent power tool! It was at the top of my birthday wish list this year (I think that's how you know you are adulting or getting deep into DIY, not sure which). I asked for a Craftsman brad nailer as the Ryobi gun I see shared so often has been sold out for months. I can't speak to the Ryobi, but so far I have been very happy with the Craftsman.
This is another tool that has the possibility of being dangerous, so read the instructions and take your time when learning how to use and while using. 

Although not necessary, the brad nailer sure does save time and energy. Trust me, I would know. As I didn't get one until almost a year into my DIY journey, my husband and I did plenty of projects the good ole fashioned way with a hammer and nail.
My husband nailed back up the trim in the living room and entryway by hand with a hammer and small finishing nails. I built a board and batten wall in the guest bath by hand with a hammer and nails. I completed it, but not without bruised thumbs for months. So in some ways, maybe a nail gun is safer than a hammer and nail? Might depend on your aim.
At any rate, having a nail gun makes any wall moulding project SO much easier! I used it to install picture frame moulding in our dining room during our phase 2 remodel and it went so much more quickly than I had imagined. Sometimes having the best tool for the job is priceless.

So you've invested in a few tools, but still feel new to DIY and are unsure where to start? I've shared my five step process that can be generalized to ANY DIY project to start and keep you on track. When you know better, you do better. And this process helps to keep you organized so you execute your best work every step of the way.
I hope you've found some inspiration, and know which beginner tools for DIY are the most versatile and best to invest in early on in your journey.