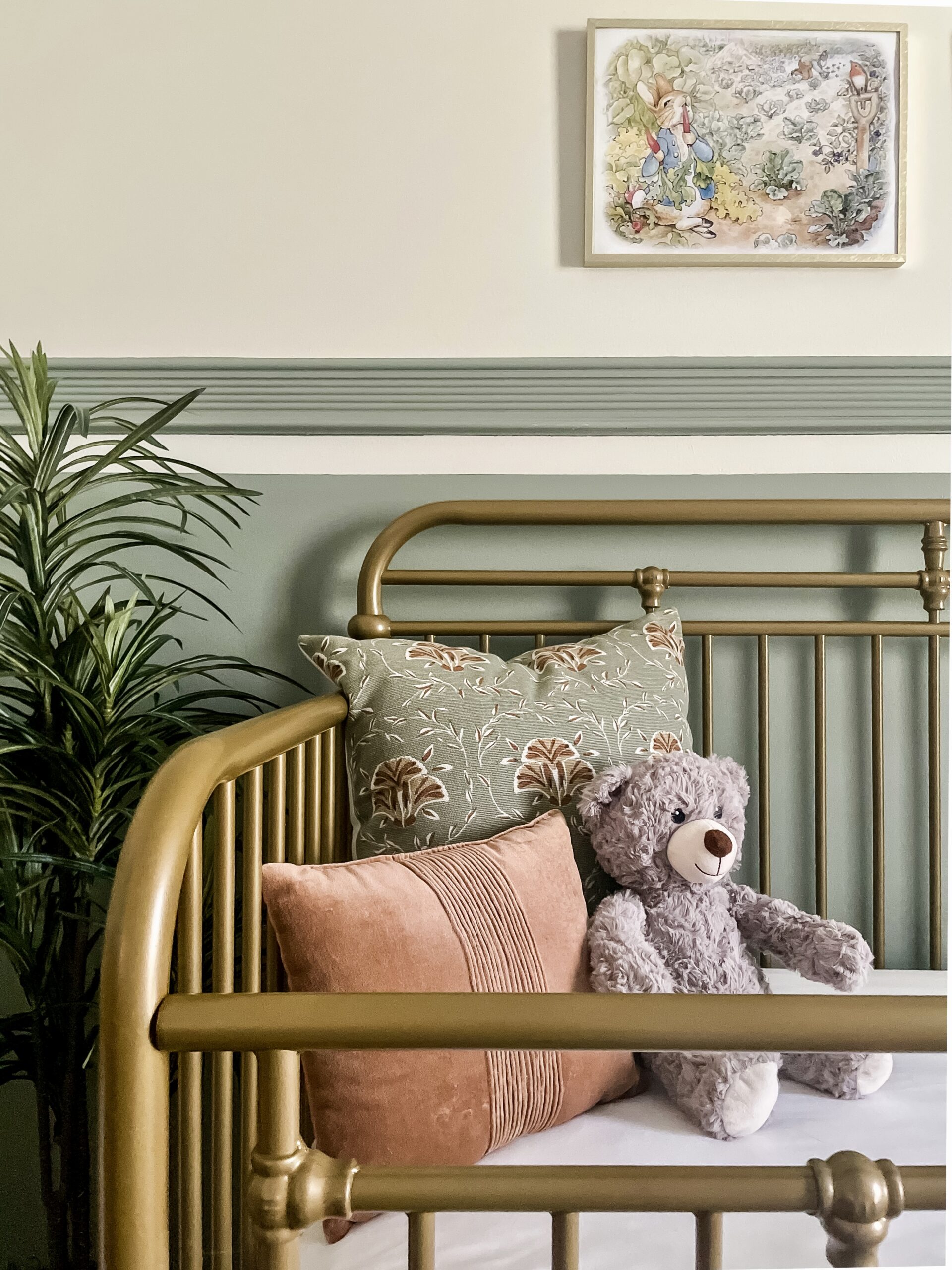 1 room. 8 weeks. Countless DIYers coming together to encourage and inspire. Welcome to the One Room Challenge! Keep reading to discover this week's project and learn how to decorate above the crib with DIY nursery art prints.
I'm so excited to be participating as a guest in the 2023 Spring season of the One Room Challenge (ORC)!
This post contains affiliate links for your convenience which may reward me in the event of a sale. Note that I only recommend tools and products I have personally used and loved.
Choosing how to decorate above the crib should honestly be part of my next design dilemma series. There are so many options! But when I came across these Peter Rabbit art prints, I knew I had to incorporate them into the room somehow.
Nursery Art Prints Inspiration
I'll give you a little backstory about why these prints mean something to my husband and me. Last year when we discussed starting a family, we were enjoying our 2 week backpacking trip through the UK! Literally 365 days before our due date this year. Crazy how life changes!
We stayed busy those 2 weeks, traveling to:
No time to read this whole post now? Pin it here to safely save it for later.
Peter Rabbit Nursery Art Prints from the Lake District
The Lake District was definitely one of my favorite stops of the two week trip. It is a National Park, complete with lovely historic towns, lakes and preserved nature. In fact, many English poets have called this place home, or pulled inspiration from its beauty. Poet William Wordsworth lived there and referred to the Lake District as "the loveliest spot that man hath ever found".
In addition to William Wordsworth, Beatrix Potter (the author and illustrator of The World of Peter Rabbit) has connections to the area as well. She first visited the district when she was 16 and her father rented Wray Castle on the shores of Lake Windermere.
During our trip, we stayed at Randy Pike Bed & Breakfast, which happened to be the old gentleman's hunting lodge on the Wray Estate. We were able to take an easy walk to Wray Castle where Beatrix Potter spent so many summers. Her influence on the area is impossible to miss. You will find Beatrix Potter and Peter Rabbit memorabilia in every shop and store throughout the towns!
Beatrix Potter's art images from the Tale of Peter Rabbit entered public domain in 2014, which means you can use these freely! Books and their illustrations enter the public domain for free use 70 years after the date the author dies, which essentially means copywrite laws expire.
I have 12 illustrated prints from the Tale of Peter Rabbit to choose from. I chose my four favorite, which included a mix of animals (including the white cat of course), and colors that worked the best with the wall color (SW Evergreen Fog) and rug.
How to Style Your Nursery Art Prints
I decided to hang a grid of 4. I felt the 3 horizontal prints did not give the space enough height. The fluted wall moulding is already horizontal, so I felt a more vertical arrangement was better.
P.S.- the pictures below are photoshopped! I did not put unnecessary holes in my wall, but do enjoy using my phone to create mock ups so I can visualize my options.
I got the PDF illustration files printed at my local Fed Ex office location. You can easily place your order online at their print shop website, choosing the size and type of paper you want.
I found these affordable frames and purchased four to complete my Peter Rabbit illustrated grid wall above the crib. You can shop through a direct link here– they are $16 at the time of posting.
Next week is the final reveal. I can't wait to share the "after" photos of this special space for our little one.
Just to recap, here is the plan for this entire ORC 8 Week process:
COMPLETED
2. Choose a Sage Green Paint Color
5. Update a vintage dresser into a changing table (without paint!)
7. DIY nursery art prints
TO DO: 
8. Final reveal!
I'm glad you are still on this nursery journey with me! Creating a gender neutral space for new bundle of joy has been so much fun. Next week is the final reveal- all the final details will be completed! Don't forget to stop back by for the final before and after's revealed.
Enjoy the process,